Mike Weatherley, Tory MP for Hove, was due to do a lecture today at Sussex University, in Brighton. He was invited by the Sussex Uni Tory Society to talk about the squatban that he championed.

Surprise surprise, it didn't go very well! Around 50-100 students, squatters and their supporters decided that they weren't going to let him speak. He'd barely walked onto campus before he was mobbed by a chanting crowd. His security and aides struggled to protect him as he fled, chased by a mob throwing eggs, tomatoes and other things. With no cops in sight, people were really showing their anger.
Weatherley repeatedly shunned debate with any squatters before he criminalised us. This is the only time he has talked in public about squatting, people tried to let their voices be heard through the government consultation on squatting, which came out as 90% opposed to banning squatting, this is why a broad range of people chased him off campus today, there were students, squatters, and supporters present.
Some choice quotes from the crowd:
"Mike Weatherley's getting lynched!"
"Tory Scum, here we come!"
"One solution, execution!"
"We're coming to get you, Mike!"
He eventually fled into the Silverstone building and locked himself in the room, besieged by the mob. Public order pigs turned up, and Weatherley was bundled into the back of a van. He was driven away at high speed as people blocked, hit and chased the van.
Meanwhile, other squatters and supporters occupied the lecture theater he was supposed to speak in, and gave their own, pro-squatting speech to rousing cheers. The building was also coated in pro-squatting posters and a banner saying "No housing, no peace!" was dropped from the roof.
All in all, an amazing day out!
Youtube
Media:
Squatters 1: Tory party nil – Solidarity Federation
Mike Wetherley attacked at University of Sussex – The Argus
Conservative MP attacked – The Guardian
Violent thugs (according to the independent!)
Controversial New Squatting Laws (Daily Mail)
MP 'attacked with rocks' at Uni (BBC)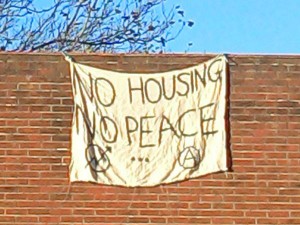 Final quote: "We no platformed the shit out of him!"
Source – https://network23.org/snob/2012/11/14/mad-mike-gets-his-comeuppance/