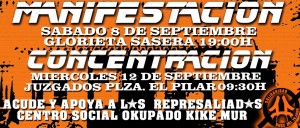 Next September 12th, the trial against the comrades known as "The roof 11" will take place in Zaragoza. These 11 people, on the day of the eviction of the CSO (Squatted Social Center) Kike Mur, went up to the roof and resisted there until police came up there to take them down; whilst in the streets, police violence was delighting in tormenting defenceless neighbours who were demanding the permanence of the space. Only three days after the eviction took place, the neighborhood of Torrero had given a joint impressive answer, in which every hit the streets to show their rejection to the eviction of the space, located in the old building of the Torrero prison, and named after the famous prisoner who passed away there. After the demonstration finished, the comrades, feeling strong, went back and re-squatted the space (despite the metal plates put there by the municipality), and police, overwhelmed by the supporting and resisting neighbours, did not have any other choice but to leave the place in humiliation, while the CSO Kike Mur was re-opened for more political activism (further info, in Spanish, on vozcomoarma).
Now, those 11 people arrested on the roof are facing a trial under charges of misappropriation of property corresponding to the Torrero prison, but we affirm the opposite saying that the council have been bribed to take us to court and they now claim to each of them a fine of 20,000 bucks.
In the frame of the solidarity campaign with these 11 people, there are the following calls:
Saturday, September 8th:
Demonstration in support of squatting. It will start at 7pm (GMT+1) from Sasera Square.
Wednesday, September 12th:
Trial Day. A protest gathering has been called, outside the Courts in Pilar Square at 09.30 am.
For all the folks from outside of Zaragoza who would like to attend, the CSO Kike Mur offers accommodation. However, the space is limited so, in case you would like to be present to support, it would be better if you contacted the comrades beforehand, in order to confirm the date when you will arrive and how many people will go with you or if you are going alone.
The squatted social center is located in the Memory Square, in the city of Zaragoza.
Furthermore, if you cannot attend, it would be nice if gatherings or demonstrations were held in your own cities to show solidarity, as well as carrying out individual solidarity actions.
Centro Social Okupado Kike Mur
Plaza de la Memoria Histórica
50007 Zaragoza, Spanish State
okupazaragoza [at] riseup [dot] net
https://squ.at/r/1ajp
https://okupa.noblezabaturra.org/
---
Directory of squats in the Iberian Peninsula:
Spanish State: https://radar.squat.net/en/groups/country/ES/squated/squat
Catalonia: https://radar.squat.net/en/groups/country/XC/squated/squat
Basque Country: https://radar.squat.net/en/groups/country/XE/squated/squat
Directory of groups (social centers, collectives, squats) in the Iberian Peninsula:
Spanish State: https://radar.squat.net/en/groups/country/ES
Catalonia: https://radar.squat.net/en/groups/country/XC
Basque Country: https://radar.squat.net/en/groups/country/XE
Events in the Iberian Peninsula:
Spanish State: : https://radar.squat.net/en/events/country/ES
Catalonia: https://radar.squat.net/en/events/country/XC
Basque Country: https://radar.squat.net/en/events/country/XE
---
source —further information in Spanish: CSO Kike Mur
[Originally published by Contra Info]