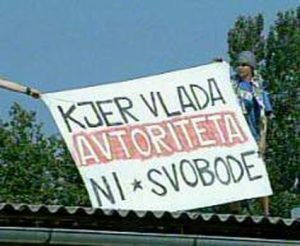 Dear friends,
we want to inform you that an activist squat in Slovenia called "AC Molotov" is in state of permanent fight with security guards of private security company called "G7" which is trying to evict activist living in side of squat. There was a lot of talk about evicting of a squat in last months, which is inside of an old building of Slovenian Railway company, but on Thursday at 5:30am security guards showed up in front of squat and blocked it. Now there is more than 10 people inside who are stopping destruction of the squat.Company does not have court order to evict the squat and it is oblivious that this action is mainly pointed to the anarchist politics that is finding its grounds in side of this squat.
More than 15 security officers are in front of squat, and are not letting anybody to bring water or food inside the squat. That is not the problem for the time being because there is large quantity of food and water inside of squat. Problem is that security is not letting anybody who leaves the squat to come back in.
For basic info on squat you can visit their web site at: www.acmolotov.tk
We urge you to write protest letters to Slovenian embassies and consulates near you – you can find address of closest embassy or consulate on this web page: http://www.sigov.si/mzz/ang/,and also to Slovenian Railway Company officials at: pritozbe [dot] pohvale [at] slo-zeleznice [dot] si , info [at] slo-zeleznice [dot] si, sasa [dot] groselj [at] slo-zeleznice [dot] si, marija [dot] lovse [at] slo-zeleznice [dot] si and officials of G7 security company at: g7 [at] g-7 [dot] si, bojan [at] g-7 [dot] si, topole [at] g-7 [dot] si, tomaz [dot] kastelic [at] g-7 [dot] si. Please show your protest against the eviction!
We, Belgrade group of Initiative for anarcho-syndicate, from Serbia are in constant contact with our comrades in Slovenia, some of them are inside of squat and have mobile phones with them. We will be bringing any important news that occur. You can contact us for more details at : is [at] inicijativa [dot] org or by telephone at: ++381-63-263-775.
Solidarity NOW!
Initiative for anarcho-syndicate www.inicijativa.org
Inicijativa za anarho-sindikat <inicijativa [at] inicijativa [dot] org>
---
Some squats in Slovenia: https://radar.squat.net/en/groups/country/SI/squated/squat
Groups (social center, collective, squat) in Slovenia: https://radar.squat.net/en/groups/country/SI
Events in Slovenia: https://radar.squat.net/en/events/country/SI
---