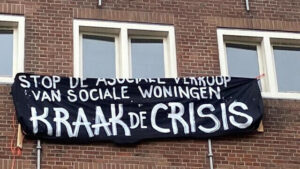 The Binnenkadijk 478 apartment has been squatted in protest against the vacancy of rental properties in the middle of a housing crisis and has been occupied since Tuesday 21 March. The house is located in the Entrepotdok complex and the owner is the housing corporation de Alliantie. The residents of the complex are fighting against the Alliance's plan to sell 140 apartments in the complex, an outrageous proposal that will reduce the social housing stock in Amsterdam and destroy a truly unique socialist project.
We have squatted the apartment to take direct action against the unjustified vacancy since the previous residents were evicted in September last year. We believe that no perfectly habitable apartments should be left vacant while so many, including ourselves, have to struggle to find affordable housing.
The apartment has been specially designed by the architects for communal living, with the idea that everyone – and not just the rich – deserves to live in a good home. We intend to preserve the original purpose and stand in solidarity with the residents of the complex.
Houses for people, not for profit! Squatting goes on!
The Anarcho-Oliefanten/ the residents of Binnenkadijk 478
---
Some squats in the Netherlands: https://radar.squat.net/en/groups/country/NL/squated/squat
Groups (social center, collective, squat) in the Netherlands: https://radar.squat.net/en/groups/country/NL
Events in the Netherlands: https://radar.squat.net/en/events/country/NL
---