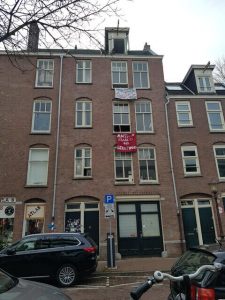 Building occupied and lived in! After being used as anti-squat and afterwards being empty for several months, people are living again in the Douwes Dekkerstraat 18! Cops came by tuesday and will not act for now.
The owner is De Groene Eyck BV, registered on the Ten Katestraat.
Haven't heard from the owner until now. VPS tried to claim that they had a contract but the police still saw no reason for eviction.
---
Some squats in the Netherlands: https://radar.squat.net/en/groups/country/NL/squated/squat
Groups (social centers, collectives, squats) in the Netherlands: https://radar.squat.net/en/groups/country/NL
Events in the Netherlands: https://radar.squat.net/en/events/country/NL
---