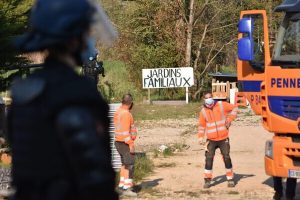 Very early this Tuesday morning, a police force accompanied by an armada of construction machines was deployed to devastate the land on Avenue de Langres that had been occupied for almost a year.
Several bulldozers, excavators, trucks and the DESERTOT company's manitou were mobilized to try to put an end to the gardens, as well as loggers who were in charge of cutting down the trees.
The municipality deploys the great means. Flowers, blades of grass, everything goes. The will is clear: nothing must remain of what can look like greenery.
This ransacking operation comes at the beginning of spring, whereas for weeks the gardeners had been working to make this place an open and shared place of passage between the residents.
The house located in the middle of the gardens remains protected by a court decision, and will not be evicted today (unless the cops decide to illegally force their way in). It is thanks to the presence of the inhabitants in this house that the alert was given early in the morning. The call relayed by friendly neighbors allowed people to converge in solidarity from the first minutes. They tried to block the construction machines by overtaking the police force that had just been set up. Some people were thus able to reach the house to defend it, while several others climbed on the roof of the house.
Quickly, faced with the arrival of people determined to defend the gardens, the police started to use tear gas. The demonstrators continued to harass the police by repeatedly undermining them. Different forms of resistance were then deployed: a machine was damaged, the dump trucks were blocked while they were taking away the earth… The town hall was not satisfied with destroying everything, but chose to plunder the topsoil. At 1pm, more than 40 truckloads of topsoil had already been removed from the gardens.
The objective is clear: the city council will leave behind a lunar landscape in order to better boast of defending the ecology in Dijon. The municipal hypocrisy has no limits. On the one hand it is running for European green capital, on the other hand it is destroying the land and the initiatives that are organizing to defend it. While resistance to the metropolization of Dijon has been growing for a year, we can't wait to see what bogus arguments will be deployed to justify such an ecological disaster.
At 2pm, the operation is still in progress, the people on the spot call to join them!
All support and solidarity towards the occupiers and gardeners are welcome.
Engrenage Gardens
61-63-65 avenue de Langres
21000 Dijon, France
jardinlengrenagedijon [at] riseup [dot] net
https://squ.at/r/7wl8
---
Some squats in Dijon https://radar.squat.net/en/groups/city/dijon/squated/squat
Groups (collectives, social centres, squats) in Dijon https://radar.squat.net/en/groups/city/dijon/country/FR
Events in Dijon https://radar.squat.net/en/events/city/Dijon
Some squats in France: https://radar.squat.net/en/groups/country/FR/squated/squat
Groups (collectives, social centres, squats) in France: https://radar.squat.net/en/groups/country/FR
Events in France: https://radar.squat.net/en/events/country/FR
---