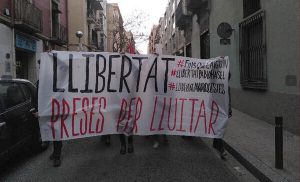 Communiqué: The press targets… About the 8 people accused of burning a police van.
On 27 February, 8 of our comrades were arrested in the centre of Barcelona during a demonstration. This event is part of a series of mass mobilisations called in the name of freedom of expression but which have ended up increasingly taking on the voice of general dissent against the historical period we are living through. A suffocating reality characterised by unprecedented institutional violence, which leaves the majority of the population without a future and which absolves and defends the usual criminals: the police, politicians and the royal family.
Following their arrests, police searches took place in 2 houses in Maresme, with the intention of linking our comrades with alleged non-existent criminal organisations and with disproportionate accusations based on derisory evidence. There is no presumption of innocence, the written statement of the Mossos has been reproduced in all the media, which repeat it and assume it as their own. In turn, the court does what was already written: very serious charges and pre-trial detention without bail. We see no other sense in all this than to put an end to the wave of protests that has been growing exponentially throughout Catalonia for weeks.
We denounce the manipulation of information and the sensationalism of the media, which limit themselves to providing cheap images of media entertainment and discourses of criminalisation of the protests. As so often before, the figure of anarchists and anti-system is being used as a scapegoat. The press is targeting and silencing the protests as a smokescreen to cover up the real criminals. On the one hand there are the police, with their violent repression that has left many seriously injured and mutilated. On the other, the institutions that leave millions of people homeless and unable to make ends meet, and finally, the royal family and politicians who continue to steal with impunity. They are the real criminals, don't confuse us with the enemy.
The 8 imprisoned comrades from Maresme are in high spririts because they know they are not alone. As their support group we will be present transmitting information, making sure that solidarity is our uniting force. We thank you for your anti-repressive contributions and we will fight to be able to hold our comrades very soon.
Soon we will publish a bank account for legal expenses as well as the details of comrades who wish to receive correspondence.
We want you free now!
Solidarity with the detainees of the 27F demonstration
9th March 2021
El Lokal
Carrer de la Cera, 1 Bis
El Raval, 08001 Barcelona
https://squ.at/r/3q2
http://ellokal.org/
---
Directory of squats in Barcelona: https://radar.squat.net/en/groups/city/barcelona/country/XC/squated/squat
Directory of squats in Catalonia: https://radar.squat.net/en/groups/country/XC/squated/squat
Directory of groups (social centers, collectives, squats) in Catalonia: https://radar.squat.net/en/groups/country/XC
Events in Catalonia: https://radar.squat.net/en/events/country/XC
---
El Lokal https://ellokal.org/comunicado-solidarixs-con-lxs-detenidxs-de-la-manifestacion-del-27f/