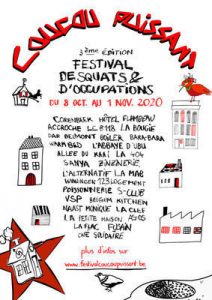 For the third consecutive year, the Festival du Coucou Puissant will be held in Brussels from October 8 to November 1, 2020. There are countless private, public or unclassifiable spaces, temporarily occupied in our big city. This festival wants to make visible the occupations and the interstices of creation, alternative housing, resistance and collective experimentation that tries to develop there. The Coucou Puissant wants to be autonomous and self-organized. We are aware of the diversity of places and practices (squat, legal ones with a temporary contract…). We are also aware that there are fewer and fewer squats in Brussels to the benefit of occupations negotiated in advance… This questions us and we wonder how to assert the dynamics of the squats? In the current context of "post" confinement and the eviction period coming back, we also want to affirm our support with the very young "anti-eviction front". The nomadic program of the festival will be able to support places in peril. The festival wants to be a space of solidarity, meeting, debate, autonomy, celebration and emancipation.
Festival du Coucou Puissant
lecoucoupuissant [at] riseup [dot] net
https://squ.at/r/69yp
https://festivalcoucoupuissant.be/
Wednesday, October 21st, from 6:30 pm to 9 pm
Legal workshop: the rules to know before squatting a buiding
Location: L'Ades'if, rue de Liedekerke 71, Saint-Josse
What are the precautions to take when opening a squat? What does the anti-squat law say? Do I have to give my contact information to the owner? Can the police evict me from the building? How soon can a bailiff evict me? Can I challenge a judge's eviction decision? The purpose of this legal workshop is to take the time to review the rules that apply to squatting. We will discuss the precautions to be taken before opening a building, those to be taken during, and finally, those to be taken in the event of proceedings before a judge. The workshop will be facilitated by Violaine Alonso, a lawyer specializing in occupation without title or law.
---
Some squats in Belgium: https://radar.squat.net/en/groups/country/BE/squated/squat
Groups (social center, collective, squat) in Belgium: https://radar.squat.net/en/groups/country/BE
Events in Belgium: https://radar.squat.net/en/events/country/BE
---
Radar, https://squ.at/r/81eg