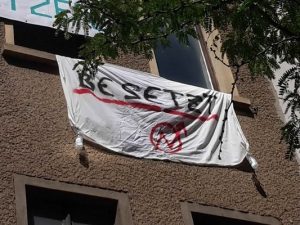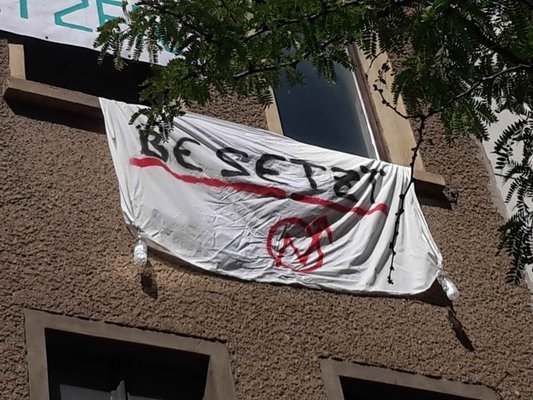 Today the squatters have spoken with the Office for Housing and Urban Renewal. The boss, Mr. Dr.-Ing. Frank Amey, has direct contact to the owner and announced that the owner has cancelled the scheduled negotiations. Speculations of the office suggest that the owner wanted to demolish the house and build a new one. This is not possible because of the law for the protection of the existing building. Now the capital interests of the owner are shifting towards buying or renting by the occupying persons. Kaya, spoke person from Leipzig Besetzen, explained: "We are angry that no talks at eye level are possible. It is therefore difficult for us to take the existing offer of talks with the owner about the office seriously.
Sasha adds: "Should the owner decide to come to Leipzig, he/she knows where we are and where we will stay. During the conversation it emerged that the law enforcement authorities could construct a threat situation. This would result from possibly defective building fabric and the resulting damage to health.
"We recognize that different actors in the debate about urban space also have different motivations. But at the end of the day, when the so-called right to property and profit maximization is worth more than anything else, we see ourselves once again strengthened in our conviction that it is right to take the houses ourselves," criticizes Kaya. Leipzig Besetzen still declares itself ready for talks and hopes for an agreement without outbreaks of violence.
Luwi71 remains!
Leipzig Besetzen
leipzigbesetzen [at] riseup [dot] net
https://squ.at/r/7tb0
https://leipzigbesetzen.noblogs.org/
Luwi71
Ludwigstraße 71
04315 Leipzig
https://squ.at/r/7zej
---
Groups in Leipzig https://radar.squat.net/en/groups/city/leipzig
Events in Leipzig https://radar.squat.net/en/events/city/Leipzig
Groups in Germany https://radar.squat.net/en/groups/country/DE
Events in Germany https://radar.squat.net/en/events/country/DE
---
Leipzig Besetzen: https://leipzigbesetzen.noblogs.org/post/2020/08/25/pm-die-verhandlungen-sind-geplatzt/