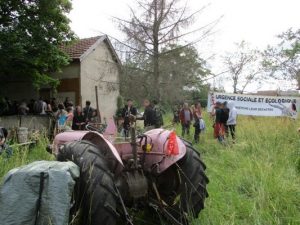 Statement from the June 17 Collective – Land occupation in Dijon as part of the June 17 appeal against the repeated intoxication of the world!
Today wednesday June 17th 2020, despite the rain, we were nearly four hundred people to demonstrate from the Place de la République to the abandoned plot located at 63 avenue de Langres. Armed with spades and pitchforks, the participants were able to clear the land to make gardens, set up new meeting and breathing spaces in the heart of the neighbourhood, plant vegetables, debate the common future on this land and beyond, or share a meal.
This land is threatened by a real estate project carried by the council which, with a great deal of "greenwashing" communication, is trying to impose yet another useless urban plan. According to the INSEE, there are more than 6000 vacant homes in the commune of Dijon alone. Except for the municipality – which wants to grow at all costs to establish its status as a "metropolis" – for whom is it a priority to have more new housing?
Caught up in their logic of profit and concrete (even painted green), the authorities get lost in projects that only deepen the risks of disaster. There is no inevitability for concrete to cover all the arable land in the agglomeration.
With the troubled times we are living through, it seems essential to change our relationship to the land, to our food, but also the way we relate to each other by building local networks of mutual aid. This 2 hectare wasteland, as confirmed during the confinement, has a real use for the neighborhood: to walk there to pick cherries, to take your pet for a walk or to play hide and seek. In addition, there is a real enthusiasm in Dijon for shared parks and gardens, and it is highly likely that this momentum will intensify further with the consequences of the current health, social, economic and ecological crisis. It is up to us to preserve and bring to life spaces that are not affected by this, and to spread the desire to act so that everything does not start all over again as before! In this land, in this city, only what each person sows can grow. What kind of world do we want to see germinate?
Long live the shared and occupied garden of the Avenue de Langres!
Engrenage Gardens
61-63-65 avenue de Langres
21000 Dijon, France
jardinlengrenagedijon [at] riseup [dot] net
https://squ.at/r/7wl8
---
Some squats in Dijon https://radar.squat.net/en/groups/city/dijon/squated/squat
Groups (collectives, social centres, squats) in Dijon https://radar.squat.net/en/groups/city/dijon
Events in Dijon https://radar.squat.net/en/events/city/Dijon
Some squats in France: https://radar.squat.net/en/groups/country/FR/squated/squat
Groups (collectives, social centres, squats) in France: https://radar.squat.net/en/groups/country/FR
Events in France: https://radar.squat.net/en/events/country/FR
---