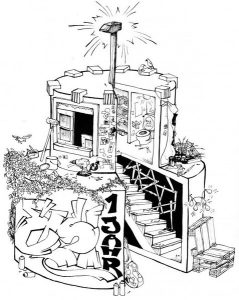 Since 11 April 2019, the houses at Elsässerstrasse 128-131 have been occupied. A lot has happened this year, a lot has been built, painted, talked, celebrated, quarrelled, loved and above all lived. We were able to experience great encounters, conversations but also important criticism. We hope that the Elsi will be able to welcome you again soon, until then we will bring you a small update!
Update about the squat
All good things come in four – that is our motto. Because it worked. In the end, the fourth squatting action was successful. The buildings have now been blusting for a year, with living space and an autonomous centre. At the moment, the monument protection authorities and the government council are clarifying whether the houses should be put under protection. We very much hope for a positive decision, because it would not only preserve one of the oldest rows of houses in St. Johann, but also a community and an exchange platform.
Regular events
Bar (Every Thursday from 6pm)

It started with beer and chips, then it became a cosy get-together in the backyard and now the Elsi has an inviting bar with a cinema where many a film has been shown.
Autonomous lunch table (every Wednesday 12 o'clock)

After the Elsi was given a beautiful dining room and an equipped kitchen, the autonomous lunch table was created, with tasty food and drinks on demand.

 Cooking is done together from 10am.
Parties
Elsi lives and invites

On 31 August 2019, the Elsi celebrated the last days of summer. There was tasty food, the wheel of fortune was turned, new clothes were provided by the free shop and a wonderful time was spent.
Winter festival in the Elsi (14.12.19)

The Elsi makes herself winterproof! Thanks to newly installed windows, roofs and insulation the Elsi was ready for the cold months. This had to be celebrated! For hours the people were lighting candles, beautiful gingerbread was baked, the fire was warming and also the living room concerts were a feast for the ears.
Soliparty: The toilet is broken (18.01.20)
Unfortunately the Elsi is also dependent on money. Building materials, tools, paint, etc., which are needed for renovation and maintenance are not exactly cheap. That's why a big Soliparty was thrown on January 18th in the Hirscheneck! As always with good food, games, great decoration and eclectic music.



Rooms in the Elsi

Workshop

A lot of wood, some saws, drills, bicycle equipment, trolleys and much more are part of the community workshop. If you want to create or repair something, you are welcome to use the workshop.
Sports room

The large room with mats can be used for trainings, big sessions or just to let off steam.
Free shop
Second-hand is in right now, isn't it? Get the new fashion highlights for the summer in the Elsi now!
Meeting room

Do you need a room for a workshop, a plenum or to give room to ideas? Come on over!
Backyard and garden

Sit comfortably together and discuss the latest headlines, play a game of ping-pong, bake pizza or pick a raised bed. Let the backyard live! The Elsi hopes to open the doors again soon and meet many of you.
One year Elsi!

The party was already in planning, the bands already requested. But unfortunately it had to be cancelled due to the Corona situation. A pity! Elsi still hopes to make up her birthday together with you soon. For ideas and wishes please contact us per email or snail mail. The Elsi is looking forward to welcome you again after the crisis with a great program.
Elsi
Elsässerstrasse 128-132
4056 Basel, Switzerland
elsi4 [dot] 0 [at] immerda [dot] ch
https://squ.at/r/7t91
https://elsilebt.blackblogs.org/
---
Some squats in Basel: https://radar.squat.net/en/groups/city/basel/country/CH/squated/squat
Groups (social center, collective, squat) in Basel: https://radar.squat.net/en/groups/city/basel/country/CH
Events in Basel: https://radar.squat.net/en/events/city/Basel/country/CH
Some squats in Switzerland: https://radar.squat.net/en/groups/country/CH/squated/squat
Groups (social center, collective, squat) in Switzerland: https://radar.squat.net/en/groups/country/CH
Events in Switzerland: https://radar.squat.net/en/events/country/CH
---
Elsi: https://elsilebt.blackblogs.org/2020/04/29/ein-jahr-elsi/