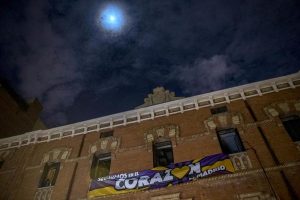 No matter who we tell, the reaction is always the same. WTF. The self-proclaimed 'government of change', the one that claims to be guided by the demands of the social movements, has consummated an eviction in times of Coronavirus. We would never imagine this reality of confinement, police state and restriction of most activities. Nor could we imagine that, in the midst of this situation, we would find out, while we were walking the dog, that we were being evicted by stealth. We don't know if they have been more cowardly, more clumsy or more deluded. They have had the cowardice to take advantage of the fact that the social center is empty, and those who have recovered the space are being responsible by staying in their homes, to break out of their own confinement, kick in the door, take down the banners, and change the locks. They have had the clumsiness to do this by committing resources and security forces, at a time when no one will believe that this is really an essential activity. And, above all, they have been so deluded as to think that this will get us killed.
The Ministry of Justice, headed by Juan Carlos Campo Moreno, wanted us to believe that this procedure was part of those that the Royal Decree of the state of emergency calls "essential for the protection of the general interest". They don't give a shit: while we devote our forces and capacities to supporting health workers by printing 3D masks or supporting networks in our neighbourhoods, they dismantle a social center without even proposing an alternative use. Or perhaps, it's only the continuation of five years of vacancy and neglect of a building in one of the most exclusive areas of the capital. And they call this "general interest" and "priority" in times of pandemic.
Were you so afraid that La Ingobernable would resume its activity that you took advantage of the confinement to evict? What are you trying to avoid with this eviction? That people have access to free activities? That young women have a place to organize against the policies that favor the climate crisis? That the people of Madrid can find a safe space free of racism, sexism and homophobia in a city that is becoming more and more hostile? Is a building that has been empty for years and with no project in sight to recover it at all costs so valuable before it serves to make this crisis more bearable for many Madrid women? It has been more than proven that social and community centers are essential to rebuild a life that will be even more precarious for many of us who live in this city. That is the true general interest and not that a building should once again remain empty and full of dust.
They have carried out an eviction without even respecting their own procedural rules, violating our legitimate right to defence. When the eviction process was resumed, we had a deadline to present allegations, which were issued by a neighbour on 27 March, despite the fact that the Ministry "does not know". Again, it was reiterated that there were allegations through an appeal issued last Friday, but they continued to be ignored. The result, as surrealistic as it is usual: a government that hides behind legalism and jumps into the fray with its own legality. And all so that they can continue to have 2000 m2 abandoned in the heart of Madrid, as if there were enough space for the people of Madrid. As if we did not need social centers for the crisis that is to come. We have two questions for Mr. Juan Carlos Campo: How can the Ministry of Justice make the eviction of the ungovernable a priority, allocating public resources for this purpose, in the midst of this crisis? How can we trust an entity that skips its own rules and procedural guarantees, leaving us defenseless when it is politically convenient?
The various forces of the self-described "progressive government" have done the same thing that Almeida did last November: refuse to enter into dialogue. It is as disappointing as it is shameful that, after the announcement of the threat of eviction last week, those politicians "of change" who had expressed their support for the social centers and for the project of La Ingobernable in particular, have maintained an complicit silence that is insensitive to a basic infrastructure for our community networks. The government as a whole has joined the right-wing judicial/punitive line instead of siding with the social movements.
We want to send a message to the government: if you think this has worked out for you, you are wrong. La Ingobernable is a project that goes beyond a space, and squatting is a legitimate practice that we will continue to carry out as long as this system is this unjust; we owe it to those who started it and those who are to come. The social, economic and health crisis that we are experiencing makes it more visible than ever that care, mutual support and solidarity are essential for the reconstruction of a society. The pillars of the old system are being shaken, those of capitalism and voracious neoliberalism, of the rise of neo-fascism and the exploitation of natural resources, because they do not work, because they do not serve us for the future we wish to live. Social centers are part of the necessary and desired alternative which is degrowth. There is no social fabric without them. And our message is clear: there are many of us and we are already organized. We belong to networks that are stronger than the doors you are trying to break down. There are and will be social centers in this city and in all of them. We are part of the REMA (Red de Espacios de Madrid Autogestionados, network of self-managed spaces of Madrid), which has a journey of its own, accompanied by people who give life to other spaces that still resist. We will return, sooner or later, to be ungovernable in a new building (and it doesn't matter when you read this). We will return to recover and open up spaces for our neighbors, for social movements and for life. Our priority is to put life in the center and in this economic, social and health crisis we are going to need 10, 100, 1000 social centers.
Volveremos Ingobernables
(We'll become ungovernable)
La Ingobernable
https://squ.at/r/3ar6
https://ingobernable.net/
---
Some squats in Madrid: https://radar.squat.net/en/groups/city/madrid/squated/squat
Groups (social centres, collectives, squats) in Madrid: https://radar.squat.net/en/groups/city/madrid
Events in Madrid: https://radar.squat.net/en/events/city/Madrid
Directory of squats in the Iberian Peninsula:
Spanish State: https://radar.squat.net/en/groups/country/ES/squated/squat
Catalonia: https://radar.squat.net/en/groups/country/XC/squated/squat
Basque Country: https://radar.squat.net/en/groups/country/XE/squated/squat
Directory of groups (social centers, collectives, squats) in the Iberian Peninsula:
Spanish State: https://radar.squat.net/en/groups/country/ES
Catalonia: https://radar.squat.net/en/groups/country/XC
Basque Country: https://radar.squat.net/en/groups/country/XE
Events in the Iberian Peninsula:
Spanish State: : https://radar.squat.net/en/events/country/ES
Catalonia: https://radar.squat.net/en/events/country/XC
Basque Country: https://radar.squat.net/en/events/country/XE
---
Original statement in Spanish published by La Ingobernable https://ingobernable.net/2020/04/24/el-gobierno-desaloja-la-ingobernable-durante-el-estado-de-alarma/