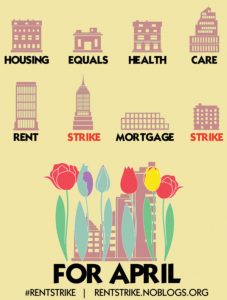 Around the country, as people lose their jobs and wonder how they will pay their rent or mortgage, the words rent strike are being heard more and more. This website https://rentstrike.noblogs.org/ will serve as a resource for how to make a rent and mortgage strike a reality in Seattle. Check back for more resources for how we can refuse to pay together.
Have a resource to share? Want to send us your own declaration of rent strike? Get in touch: rentstrike [at] riseup [dot] net
Why Strike?
In this moment, millions of people are being faced with the reality of being unable to pay their bills. Countless people who live from one paycheck to the next have lost their jobs and income already and have no way to make April's rent or mortgage payment. Even under normal circumstances, people in Seattle have been struggling to pay rent for years, with rents that are 93% above the national average. It should come as no surprise that in this moment, people simply cannot pay.
Some are calling on the state and federal government to put a moratorium on rent and mortgage collections. If this happens, great. If it does not, this changes nothing. We still can't pay, so we won't. Banks and landlords should not be able to continue profiting on renters and mortgages when there is no way to earn money. That's just common sense. If we can't make money, neither can or landlords, neither can the banks.
Even if you can personally pay your rent, that doesn't mean you should. The best way to support those who cant pay rent is for all of us to go on rent strike together, rendering it impossible for the authorities to target everyone who does not pay.
Refuse to pay rent April 1st. If not for your own sake, then for the sake of your neighbor.
---
FAQ about the Eviction Moratorium
Who is approved for the Seattle moratorium issued by Mayor Jenny Durkan around COVID-19?
Governor Jay Inslee issued a "30-day statewide moratorium" on evictions for residential tenants. For Seattle, the decisions are evolving but the residential, small businesses and nonprofit moratorium on evictions is in effect. It is reported that evictions for nonpayment of rent would be suspended for "60 days or until the end of the city's emergency." This originally was 30 days but has now been extended to 60 days.
What counts as a small business under the moratorium?
"It covers evictions related to nonpayment of rent and lease expirations, and it defines a small business as any business entity with 50 or fewer employees, including sole proprietorships." We assume this is the same definition for non-profits as well.
Who is NOT approved under Seattle's evictions moratorium?
Seattle's moratorium does not extend to commercial properties. It's also important to note that the moratorium and council's resolution does not address "homeowner-mortgage concerns."
What does the moratorium entail?
Under this current moratorium, "landlords could not issue termination (pay-or-vacate) notices for nonpayment of rent; could not initiate eviction actions in court; and could not advance termination notices already posted." The moratorium also covers "evictions related to leases that have expired or will expire during the coronavirus emergency, and it asks the King County Sheriff's Office to cease execution of evictions" until further notice.
At this point in time, you cannot be threatened with eviction by your landlord, the courts, or law enforcement. As for existing eviction cases amidst the emergency that came into effect before this decision, "Seattle's moratorium should be a defense in court." But be warned: for future eviction hearings already schedule, "the city's order says the court may postpone those cases to a date after the emergency" when there is a potential that Seattle's moratorium as a defense may not be viable any longer.
The moratorium also waives late fees incurred by residents, small business and nonprofits.
What is the fineprint on this moratorium?
Other causes of eviction besides nonpayment of rent will not be covered under this moratorium. Any evictions before or assuming after this emergency will not be covered by the moratorium. "When the moratorium ends, the tenants will owe whatever debts they've incurred and their landlords will be allowed to evict them for non-payment." Keep in mind, this is an evolving resolution that can change. It's also important to keep in mind that the timeline for the moratorium is vague and subject to change. We cannot depend on the decisions of the city or the state to protect us from evictions.
To learn more about the moratorium, please refer to these links that we have cited:
Seattle's coronavirus moratorium on residential evictions is approved, expanded by City Council (Seattle Times)
Seattle issues emergency moratorium on evictions due to COVID-19 (KOMO)
Seattle Mayor Durkan orders moratorium on rent-related residential evictions in wake of coronavirus outbreak (Seattle Times)
Inslee orders temporary stop to evictions, other help for workers and businesses in response to coronavirus (Seattle Times)
---
Resources
WA State Covid-19 Legal Resources
FAQs About the Eviction Moratorium
---
Groups in the US: https://radar.squat.net/en/groups/country/US
Events in the US: https://radar.squat.net/en/events/country/US
---
Rent Strike
rentstrike [at] riseup [dot] net
https://rentstrike.noblogs.org/strike-declarations/