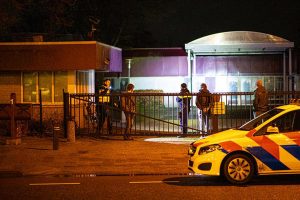 Sunday night March 8th (technically Monday morning March 9th) 17 squatters were arrested in Zwolle, Netherlands.
The building was occupied by squatters after 5 years of vacancy. Unfortunately the police got wind of the situation and after a while they were at the door with all their might and power. Not soon after the police entered and the squatters were summoned to get down on their knees, with hands on their heads. The squatters were handcuffed and taken to the police station, where they were all detained for more than 16 hours. During the arrest, breaking tools were also found by the police.
All squatters are now free. They have all received a fine (€225) for trespassing, which is a strange situation for people who are homeless or barely able to pay their rent. During the arrest the squatters were not given the opportunity to pack their belongings, these things are still in the building.
After Sunday night there are two losers and only one winner: The police had to use violence and some of the squatters are still homeless. The winner is Janssen Vastgoed: his building (one of many vacant premises) is still empty and as far as we know the company is not being bothered by the municipality.
---
Some squats in the Netherlands: https://radar.squat.net/en/groups/country/NL/squated/squat
Groups (social center, collective, squat) in the Netherlands: https://radar.squat.net/en/groups/country/NL
Events in the Netherlands: https://radar.squat.net/en/events/country/NL
---