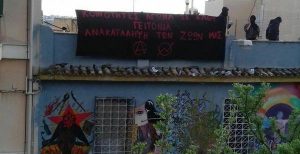 Since 2017, the Koukaki Squat Community (Matrozou 45, Panaitoliou 21, Arvali 3) set up a different competitive example of communal life in the center of Athens. Through horizontal procedures, collective work and persistence, it set up open and social projects of communal housing, public bath and laundry, clothes sharing, spaces for public events and a multilingual library. Operating in an area which has been transforming from residential neighborhood to first-class tourist resort, the Koukaki Squat Community raised an embankment against the repressive and economic policies of the state and the bosses, against fascism, racism, and patriarchy. A living hearth of resistance, it also actively supported and connected with other struggles, political projects and public assemblies [1].
Such an active community of equality and solidarity could not go unnoticed. As many other squats and political projects in Athens, the squats in Koukaki were targeted multiple times by the state, both by syriza and nea dimokratia governments, as well as through fascist attacks [2]. Facing evictions and repression, the comrades resisted and defended their community by retaking the houses and through dynamic interventions. Their strong resistance came to become a central political issue on 18/12/2019, when the police evicted all three squats, and on 11/1/2020, with the spectacular police operations to evict the houses of Matrozou 45 and Panaitoliou 21, both of which had been retaken by comrades earlier that day.
Retaking and defending the squats was an action against the fear which state repression subjects us to … a reasonable response to the irrationality of a financial system which violently throws people in shit holes, streets and concentration camps, while thousands of buildings remain abandoned and empty [3]. Through their strong resistance, the comrades responded to the violence enforced on all the squats and struggling people through evictions, arrests, terror and fear. Through their collective resistance, the comrades gave a symbolic answer to the state and capital's attack on labor, healthcare, education and housing, the neoliberal plunder of natural resources and the necropolitical management of lives. A symbolic answer to the all-pervasive violence that state powers sow daily in cities, local communities and borders, from the prisons of Moria, Petrou Ralli and Korydallos, to Skouries, Agrafa and the Aegean.
The hatred with which the police attacked the comrades of the Koukaki Squat Community, as well as local residents and comrades in solidarity, came as no surprise. The state is well aware that collective resistances and solidarity must be hit relentlessly, so that they won't become an example to follow for all those who (may) deny and challenge the individuation and the wild competition of the free market, an example to follow for all those who resist to take their lives in their hands. Yet what they will always fail to grasp is that our collective bonds, struggles and ideas are not confined to walls and cannot be evicted. We will continue to stand in solidarity with our comrades, with all those who resist in the social struggles that unfold. Because the fight is neither legal nor illegal, it is just.
SOLIDARITY TO THE SQUATS AND POWER TO THE ARRESTED
ALL IS OURS TO TAKE BECAUSE ALL HAS BEEN STOLEN
SQUATS IN VILLAS AND ABANDONED HOUSES
FOR A WORLD OF SOLIDARITY, SELF-ORGANIZATION AND FREEDOM
Dervenion 56 Squat, February 2020, Athens
https://squ.at/r/1lps
https://dervenion56.espivblogs.net/
[1] More about the Koukaki Squat Community https://athens.indymedia.org/post/1602457/ | https://athens.indymedia.org/author/Κοινότητα Καταλήψεων Κουκακίου/
[2] Evictions on 12/3/2018, 18/12/2019 and 11/1/2020, and fascist attacks on 26/02/2018 and 14/03/2018.
[3] Text for the re-taking of Matrozou 45 and Panaitoliou 21 on 11/1/2020 https://en.squat.net/2020/01/12/athens-matrozou-45-and-panaitoliou-21-resquatted-et-again-evicted/
---
Koukaki Squat Community
m45community [at] riseup [dot] net
https://squ.at/r/43uf
Some squats in Greece: https://radar.squat.net/en/groups/country/GR/squated/squat
Groups in Greece: https://radar.squat.net/en/groups/country/GR
Events in Greece: https://radar.squat.net/en/events/country/GR
---
Sources:
https://dervenion56.espivblogs.net/2020/02/08/to-koykaki-toys-epese-vary/
https://athens.indymedia.org/post/1603125/