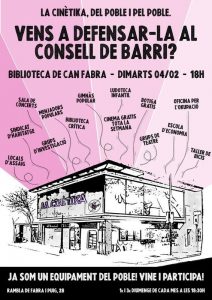 Our solidarity, mutual support and recognition of the humble, consistent, lively and generous daily work that the Cinètika does from an anti-capitalist, feminist, libertarian and inclusive position, open to all the neighbors and all the struggles of the neighborhood and the city. A work of resistance and construction of alternatives from direct action and self-organization. Also from critical culture, constant debate. There is no better discourse than the practice and it is already a few years of having recovered from money, from the market a space, occupying it, making it public without it being institutional. This shows that it is possible to do things in order without authority, that it can work without subsidies. A space for creation, to experiment freely.
There are more and more of them, and they can be seen in experiences such as the Cinètika. They encourage us to know that they exist, that we can use them, that we can support ourselves by creating networks of people and places where we can organize ourselves. It is not by chance that in Barcelona and in so many others, so much money wasted from institutions, so much bureaucracy and entertainment professionals, is born and is maintained in the face of cultural and political mediocrity. Experiences of free thought, of counter-culture, of free communities. Essays on the world we want to build.
And in the face of all this, from the institution always the mistrust, the guardianship, the threat. The two worlds confronted and clashing. What is the reason for the warning, what is the reason for the possibility of putting all this into question by appealing to a participatory process? To mobilize everyone, to make visible the power of the Cinètika, the recognition and the capacity to mobilize a living, organized and mobilized community.
Who knows why, what we do know is that only the first warning has received an admirable response, an urgent, rapid convocation that those who know what is moving, know is predictable. A demonstration of strength in the face of any abuse or misuse that is intended to be given.
The alternative, the daily work, the one that changes things, the one that counts. The Cinètika is priceless, it escapes institutional or market logic, it belongs to the people and for the people. It is free and for freedom.
Thank you for being there and for being the way you are.
---
La Cinètika
Passeig de Fabra i Puig, 28
08030 Barcelona
lacinetika [at] riseup [dot] net
https://squ.at/r/2l8i
http://lacinetika.wordpress.com/
Directory of squats in Barcelona: https://radar.squat.net/en/groups/city/barcelona/country/XC/squated/squat
Directory of squats in the Iberian Peninsula:
Spanish State: https://radar.squat.net/en/groups/country/ES/squated/squat
Catalonia: https://radar.squat.net/en/groups/country/XC/squated/squat
Basque Country: https://radar.squat.net/en/groups/country/XE/squated/squat
Directory of groups (social centers, collectives, squats) in the Iberian Peninsula:
Spanish State: https://radar.squat.net/en/groups/country/ES
Catalonia: https://radar.squat.net/en/groups/country/XC
Basque Country: https://radar.squat.net/en/groups/country/XE
Events in the Iberian Peninsula:
Spanish State: : https://radar.squat.net/en/events/country/ES
Catalonia: https://radar.squat.net/en/events/country/XC
Basque Country: https://radar.squat.net/en/events/country/XE
---
Statement published by El Lokal: https://ellokal.org/sobre-la-cinetika-sobre-els-espais-lliures-i-autogestionaris-cat-cas/
El Lokal, Carrer de la Cera, 1 Bis – Raval, 08001 Barcelona, https://squ.at/r/3q2