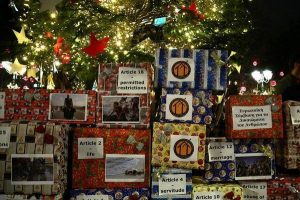 In the afternoon of the 24th of December, the community of the refugee housing squat Notara26 moved along towards the Christmas tree in Syntagma square in order to bring back the European values to the European people. 18 big parcels according to the 18 articles of the European convention of human rights were brought to the Christmas tree to remind what is written on paper. In contrast there were pictures how this 'rights' function in reality. In their statement the European states claim to honor these values, but the people are wondering where to find them.
"We are not three and we are not kings and we didn't come to iconize a new born person. We are thousands, we refuse kingdoms and idols, and we are craving for a society with respect and equal rights for everybody. Even if we are coming from same regions than the mythological three guys 2019 years ago, the reasons for our journeys are totally different. We escaped wars, authoritarian dictatorships, torture, ethnic or gender-based discrimination and famine. We came here in order to find worth living conditions.
Even if we know that most of the tragedies in our homelands were started and controlled from the western world and Europe, we hoped that when we finally arrive in these 'holy lands' here we would be treated as human beings. But the institutions supposedly created to protect 'human rights' are the worst. The European Union, Frontex and the nations states already imprison us in the Maghreb states through the agreements they have signed, tolerate our slavery in Turkey and Libya, let us drown or even drown us in the Mediterranean sea, push us back without any legal frame, put us in concentration camps, isolating us socially as well as psychologically. Plus, some politicians scapegoating us which stirs up hatred and racist violence.
On the other hand, we are encountering the people full of solidarity that are struggling with similar problems as us. We found a home and a community in a squatted building with people from many different backgrounds. And we see that these values actually exist – if only in small scales. We don't demand nothing from the institutions that are obviously hypocrites. But we wish to find more people who carry these values to collectively build more and bigger communities."
They left their gifts under the Christmas tree and left hoping that at some point we, "humans" will be able to find again our lost values and principles, so to become Humans again.
Athens, Syntagma square, 24th of December, 2019
---
Notara 26
Exarcheia, Athens
notara26 [at] riseup [dot] net
https://squ.at/r/1d8u
Some squats in Greece: https://radar.squat.net/en/groups/country/GR/squated/squat
Groups in Greece: https://radar.squat.net/en/groups/country/GR
Events in Greece: https://radar.squat.net/en/events/country/GR
---