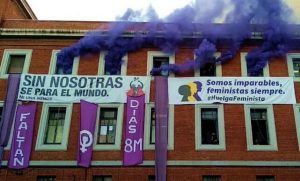 From the heart of Madrid, November 13, 2019
Today, the right wing has carried out the eviction of La Ingobernable, in a demonstration of force. It has closed itself off from tackling a social conflict with arguments, and without even giving notice, it has resolved with the police what it has not wanted to resolve through dialogue. When the reasons end, you only have brute force left, but you will neither win nor convince. Thousands of us filled a common space with life, and now they are knocking down the door to empty this social center of all the life with which we filled it.
Almeida, Villacís: but why do you hate us so much? First, because you can't stand the truth that we are carrying: that the Prado 30 conflict was not opened by La Ingobernable, but by those who stole a public building from us. With an act of disobedience, La Ingobernable returned to the city the building you stole, bringing to light Ana Botella's speculative deals. And second: because you can't bear to see our social centers full of a happy life that you don't live, and that you don't understand. You can still not recognize what has happened here, but it has happened. Those who in 2015 closed, gave away and were going to demolish a municipal building, still in 2018 supported the "museum" of Aznar's friend, but already in 2019 not even you dare to defend that speculative deal. And why did you change your mind? Because the struggle of La Ingobernable won, and showed once again, the plundering to which you have subjected our city for decades. We recovered our building, not by brute force, but with the power of the people and the grassroots movements that we decided to say enough to your corruption. That's how it was: la Ingobernable evicted you to de facto return this public wealth to the thousands of people who have used it. And what has happened here you will never be able to erase, because it will remain forever in the memory of the social centers, and will be a reference point for the new struggles to come.
2. Manuela Carmena is also centrally responsible for evicting La Ingobernable. The so-called government of "governing by listening," which repeated to us that "citizenship is ahead of institutions," never recognized the value of self-management. In 2015, Ahora Madrid began its government by blocking the basic demands of the Red de Espacios Ciudadanos (Network of Citizen Spaces), which coordinated the struggles for the space of dozens of self-managed initiatives in our city. While ignoring our demands, Carmena's government unjustifiably ceded enormous municipal spaces, such as Alberto Aguilera's Palacete to the Mexican State or Matadero's ship 9 to the Sandretto Foundation. The Prado 30 building remained empty and was not on any political agenda… until thousands of people uncovered the PP speculative deals and evicted the Ambasz Foundation. Did the City Council then collaborate with the new social center, which was already overflowing with activity in its first weeks? Unfortunately not. On the contrary, they compensated Ambasz with 1.4 million euros of public money. And finally, Rita Maestre broke the agreement we reached with the fabric of the city, which would have allowed a fair obstacle to the current government. Not confronting the elites is not only expensive economically, but also politically.
3. We have rage, a lot of rage, because this sad Madrid of classists, machistas and racists seems today more reality than yesterday. Rage, because we are torn from a place we love, a territory in which we have opted to leave a space for la Ingobernable in our lives. A beautiful collective project in which we have put our body, time and heart; in which we have not asked for and waited for an indefinite future, but have taken and made the Madrid we want. We know very well that we do not have another life, nor another Madrid, and that is why we know very well that we are not going to give up either a life that is worthwhile or a city that is worthwhile. We understood that we needed each other, we understood that life without shared spaces a little ungovernable is not true life, we understood that we have no alternative but to make the politics of every day, to defend joy and organize anger. And even if they evict this building, they cannot evict us, because we are everywhere, and an ungovernable Madrid is unlivable.
Let them disrupt our dancing
Now and always, Madrid is not to sell
10, 100, 1000 social centers
La Ingobernable
https://squ.at/r/3ar6
https://ingobernable.net/
---
Some squats in Madrid: https://radar.squat.net/en/groups/city/madrid/squated/squat
Groups (social centres, collectives, squats) in Madrid: https://radar.squat.net/en/groups/city/madrid
Events in Madrid: https://radar.squat.net/en/events/city/Madrid
Directory of squats in the Iberian Peninsula:
Spanish State: https://radar.squat.net/en/groups/country/ES/squated/squat
Catalonia: https://radar.squat.net/en/groups/country/XC/squated/squat
Basque Country: https://radar.squat.net/en/groups/country/XE/squated/squat
Directory of groups (social centers, collectives, squats) in the Iberian Peninsula:
Spanish State: https://radar.squat.net/en/groups/country/ES
Catalonia: https://radar.squat.net/en/groups/country/XC
Basque Country: https://radar.squat.net/en/groups/country/XE
Events in the Iberian Peninsula:
Spanish State: : https://radar.squat.net/en/events/country/ES
Catalonia: https://radar.squat.net/en/events/country/XC
Basque Country: https://radar.squat.net/en/events/country/XE
---
Original statement in Spanish published by la Ingobernable