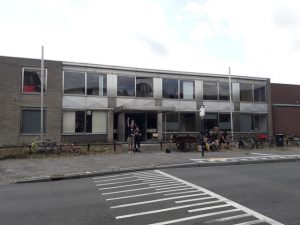 Since a few days, a group of squatters has been occupying a building located at the Australiëlaan 18-22 in Utrecht. Since 1998, a family from Woerden had ownership of the building. The company Boxx Opslagverhuur wants to use the building as storage place, though their plan has been rejected by the municipality of Utrecht on November 12, 2018. So far there are no concrete signs the place will be used on a short term. That's why we arrived!
The cops have been informed about the situation. This morning around 25 people showed up in solidarity. We are still waiting for them to come. The ambiance is nice and chill, and we will keep you updated in case the cops arrive or the situation changes.
Feel free to pass by and join us on this sunny day!
update sunday july 7th: There has been contact with the police again. They told us it is very likely the neighbourhood cop will come tomorrow to have a chat. We will go into the night looking back on easygoing first days of the new squat. Let's see what happens next!
---
Some squats in the Netherlands: https://radar.squat.net/en/groups/country/NL/squated/squat
Groups (social center, collective, squat) in the Netherlands: https://radar.squat.net/en/groups/country/NL
Events in the Netherlands: https://radar.squat.net/en/events/country/NL
---