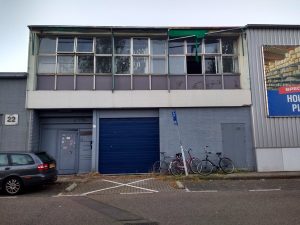 The Kløkhuis squat threatened by Hagatex BV, the textile company of Maged Hagagg.
On 30 September 2018, we squatted an empty building, the Kløkhuis, on the Zeeburgerpad 22 in Amsterdam. The building, owned by Appelbeheer BV since the end of 1990, has been rotting away for the most of the time. The building has been squatted several times since then. The building has finally been taken back into use by us as a social place and living space. We had to clean the terrible mess left inside and throw away more than a hundred garbage bags of waste.
This was the state in which we found the property, a complete ravage. And yet on 16 December, we received a very informal letter stuck on the door. In this letter Hagatex BV claimed that it is their business premises and that if we had not "delivered and evacuated" the next day before midday the police would take us by force out of the building.
They came with tools to break the door open, threatened to do so if we didn't leave ourselves and started to pull the lock out of the door. Hagatex has lost a lawsuit with the owner after sub renting the property and renting it to students for parties. Such a company on no account has the right to access the property and claim that in the havoc in which we found it, their business is nestled.
They were stopped and sent away.
We will not leave and continue to use the building as a social place and living space.
Squatting continues!
Het Kløkhuis
Zeeburgerpad 22
Amsterdam, The Netherlands
hetklokhuis [at] protonmail [dot] com
https://squ.at/r/6ixz
Some squats in Amsterdam: https://radar.squat.net/en/groups/city/amsterdam/type/squat
Groups (social centres, collectives, squats) in Amsterdam: https://radar.squat.net/en/groups/city/amsterdam
Events in Amsterdam: https://radar.squat.net/en/events/city/Amsterdam