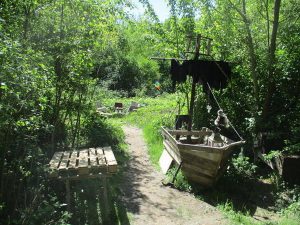 After 5 years of creating alternative living spaces with nature, the Swamp, Kanaleneiland, is being threatened with destruction.
The state and the company Borghese are working hand in hand to turn the Swamp's beautiful young forest into asphalt to then build a distribution centre and a bus remise, while there are alternative locations for these projects where the destruction of nature isn't necessary.
From the Hambach Forest and ZAD evictions, to the ADM case and the expansion of the A27, time after time, people and nature have to defend themselves against capitalist greed and neoliberalist development policies.
The Swamp became a space of living and sharing with people and nature, outside of consumption trends. In a city where the waiting list for expensive "social housing" is endless, we decided to build our own houses and work in a sustainable and self-sufficient way. In Kanaleneiland in particular, only a couple of years back social housing was sold to private corporations behind people's backs.
While the Netherlands presents itself as a "green country", green spaces in the city keep on disappearing. We are not the only ones being evicted from the Swamp. Birds, rabbits, bats, bees and other animals and insects will also lose their living spaces.
We won't keep silent. We won't just leave. Come to the court case and join the struggle to save the Swamp.
Wednesday 10th of October, Vrouwe Justitiaplein 1, Utrecht
14.00h : Soup
15.00h: Court case
The Swamp
Gelderlantlaan, Utrecht
Netherlands
https://squ.at/r/6b2z