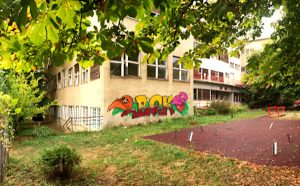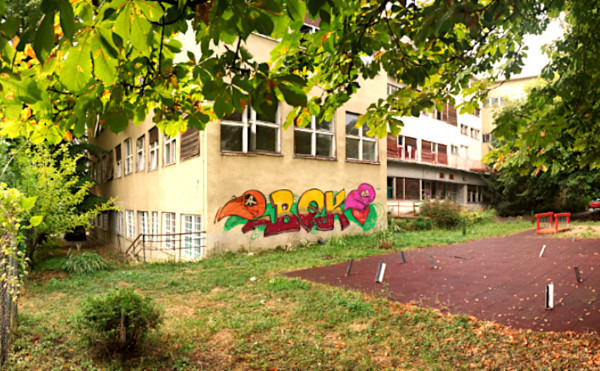 International call for volunteers
On April 15, a new squat-social center in Zagreb was opened! Some members of Food not bombs Zagreb and other activists formed BEK collective which occupied an abandoned school for blind and visually impaired children. Building was closed for three years and not maintained properly for years before so we started working on smaller repairs to turn it slowly into a completely functional and different place. Our collective is organised on anarchist principles and main idea is to have a social and cultural center which is connected with people in real need and vulnerable social groups, in contrast to bourgeois squatting which takes not a small role in the movement, and is focused mainly on parties, drugs and empty theoretical discussions. This means we stand clearly against drug use, laziness, making profit from squatting and want to have a well organised place with hygiene standard. The projects we are starting right now are: public kitchen few times a week, free-shop, library, open artist studios, free music and rehearsals room, free cinema, donation based or free coffee bar, roof and vertical garden and various workshops. Our long term plan is to make place self-sustainable as possible by producing our own food and minimal waste, recycling and using solar energy. We already had few gigs, workshops, exhibition, movie nights and public kitchen a lot of times.
This is a call for all volunteers and squatters that want to participate and help with public kitchen, garden, bar, cleaning and security shifts and also everyone who wants to establish any kind of workshop or course ( language, art, crafts, sports…) In this moment we are also in special need for plumbers, electricians and construction workers. We don't need "cool" and "alternative" people, but anyone with good heart and will to help, and of course, have fun and enjoy the best view in Zagreb! Hope to you soon:)
Feel free to contact us. If you want to help us from far, we appreciate a lot spreading voice about us and any kind of donations. All
musicians and performers passing through Zagreb are invited to make a short show for food and accommodation.
BEK kolektiv
Ulica Vladimira Nazora 53
10000 Zagreb, Croatia
bek_kolektiv [at] riseup [dot] net
https://squ.at/r/69vd
https://bekkolektiv.com/
Events in Zagreb https://radar.squat.net/en/events/city/Zagreb
Groups in Zagreb https://radar.squat.net/en/groups/city/zagreb
Groups in Croatia https://radar.squat.net/en/groups/country/HR