We invite you to read the story of yesterday's crazy day at: https://zad.nadir.org/spip.php?article5554 [on S!N here ]
Thanks to all of you who braved the police operation to affirm your support for the future of the ZAD!

For those who do not know it yet, at around 9.00pm the cops left the area, removing their forces entirely. At that same time our enthusiasm gave us the strength to move mountains … and to move the frame of the new collective building that we had said that we wanted to install at Gourbi. More than a hundred people helped to lift the structure, and carried it along the roads of the ZAD, step by step, in an amazing outpouring of energy and euphoria.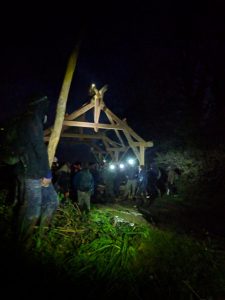 At the stroke of midnight the structure finally arrives at its final place. Of course everyone knows that the cops will probably come tomorrow, Monday, to destroy it, just as they are trying to destroy everything beautiful that we build on the ZAD. [ They are indeed destroying, see first foto 🙁 ]
Come and join us and help to defend this symbol of our collective determination!
Source with pix added from twitter