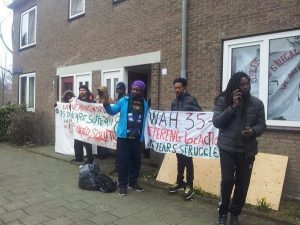 Refugee collective We Are Here has squatted a house at Rudolf Dieselstraat 72 for a woman and two children, together with people who now live under harsh circumstances in the church in the James Wattstraat.
After more than 5 years of fighting for a normal life, we know what it means to live on the street or to continuously move from one place to another. It means that you loose all the time, your life looses sense, you are affected. Six of us have already lost their life. The pressure is rising. A solution has to come now.
The women's building on the Burgemeester Roëllstraat 70, where 25 women of We Are Here are living since a year and a half, can be evicted by the housing corporation from the 10th of April.
Most political parties have agreed that no building of We Are Here will be evicted as long as they negotiate about the new board. We invite them to work together on a stable place and a real Amsterdam-style solution.
We are here and we need a place to live.
We Are Here
http://wijzijnhier.org/