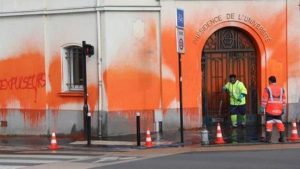 On march 7th, at 7am, a few hundred riot cops evicted refugees occupying the Censive building and the Château du Tertre, at the Nantes university. Around 50 people from Censive and 60 others from the Château were violently kicked out under the smiles from the heads of the university and authorities in charge of the police operation.
The eviction was fast. One person went on the roof to protest. Around 10am, this person was still there. As soon as the eviction alarm was called, people gathered on the parking next to the Château du Tertre.
All belongings were moved out by Demeco, a removing company, who did not want to communicate what they were going to do with the mattresses. The police started to barricade the Château du Tertre from inside to prevent any new occupation.
The Censive occupation took place on November 22nd 2017, after the violent eviction of the former Art School, directly bricked up and still heated on! The Château du Tertre was occupied by students and refugees soon after, on November 26th.
Thank you note to those evicting children and refugees.
Yesterday early morning, we heard about the eviction from the Censive building and from the Château du Tertre, at the Nantes university where more than 150 people were living since last November, to have a roof and avoid the cold winter.
Evicting such amount of people in winter time seems like an innovative solution! The Nantes population is supporting this state and university joint initiative.
We wanted to give a special thanks to Olivier Laboux, the university president, for his comprehensive dialogue and efficient diplomatic effort. We repainted for free the walls from his personal castle.
There is no doubt other people involved in the eviction, such as the préfécture, the city hall will enjoy the solidarity from the Nantes population.
Thank you so much and warm hugs.
Commando Nicole
sources: Indymedia Nantes
https://nantes.indymedia.org/articles/40379
https://nantes.indymedia.org/articles/40366
https://nantes.aveclesexiles.info/