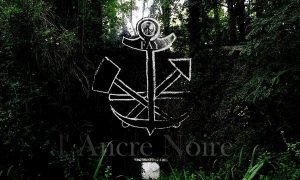 L'Ancre Noire (the Black Anchor) is the new name of an old farm and reintegration center, CHRS Le Val – squated in the summer of 2016 halfway between the village of Fay-de-Bretagne and the ZAD of Notre-damme-des-Landes.
Here we live in a day-to-day struggle for the autonomy of the self against the institutional integration – either of our bodies, of our heads as for our common and living places.
We do not recognize any document legitimating – or not – someone of living where he is, neither in a logic of nationality, housing or any property or social organization form.
Here we take possession of our lives and capacities, in an urge for our individual and collective aspirations, taking for goal, our Joy – without papers, without property, without politic nor authority to divide us in this emancipatory quest.
We put forward the auto-organisation of our lives, the informality of our coexistence, responsibility, mutual aid, friendship and love relations. The consequence of those relations takes along a deep antagonism facing any mediation with those who have by objective ruling, controling, filing, enclosuring or expulsing us, and in the active search for the ways of anarchy.
« May the enormous social injustices give us the courage to fight the infamous actual organisation.
May the tears of the miserable encourage us on the struggle facing everything meaning opression and tyranny. »
Joaquin Miguel Artal
Castaways of the World, welcome on board, and good wind !
L'Ancre Noire
Lieu-dit la Noë
44130 Fay-de-Bretagne
France
fay [at] riseup [dot] net
https://ancrenoire.noblogs.org/
https://ancrenoire.noblogs.org/post/2017/10/06/l-ancre-noire/