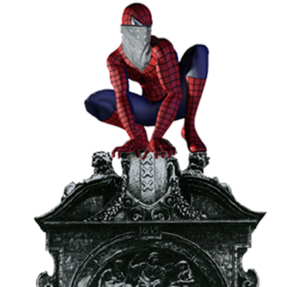 On the 28th of August, almost two years after the abandoned dungeon under the bridge was squatted, the Spinhuis will be evicted. The autonomous social centre will be swept away. What will come in its place will be a closed, ostensibly 'neigbourhood initiative' for canal homeowners, but which is widely known to be a vessel for the ambitions of Peter Hagendoorn (son of the well-known real estate speculant).
Whoever thought that we would just let this happen is wrong. Long have we fought for a social and independent Spinhuis to remain, using all the tools we had: from crowbars on doors, to negotiations with the municipality, and all the rhetorical skills and political wrangling that come with dealing with bureaucrats. However the fate of the squat had already been decided upon. Nevertheless, we remain ready to fight. From under the bridge we will take to the streets to resist the evictions of the Spinhuis and ADM, and the overwhelming commercialisation and gentrification of our city. Here follows a reflection on the past two years and the battle that is yet to come.
During our time in the Spinhuis, so much was learned and accomplished, but we also made our mistakes. Too long have we negotiated politely: with a municipality that is selling off our city; with rich neighbours, who bluntly declare that homeless people should be excluded from our space and city centre; with slimy real estate speculants, who called the police when we opened the Spinhuis to shelter refugees from the We Are Here group. Too often we made concessions in the fight to keep the space, while our focus should have been on creating a space worth fighting for – even if that might have meant being swept away by repression far sooner. We regret this, and we want to do better in the future. So let this not just be an end of the Spinhuis under the bridge, but also the renewal of our fight against capitalism, against gentrification, against exclusion and repression. For freedom, security of existence, equality and space for all. For Anarchy.
Spinhuis strived to stand for an egalitarian, empathetic vision of society, by happily accepting folks who are in precarious positions and treating them as equals. We wanted to acknowledge everyone's autonomy, opposing a 'respectable' society that looks down upon its own self-constructed margins. We tried to actualise our politics (self-emancipation and mutual aid) by working on an inclusive space. And through these efforts, the absence of these values in society became even more apparent. This society deliberately stifles people's ability to live, express their potential, and develop their talents on their own terms. This society is based on distrust, exploitation and selfishness in the name of capitalism. It has been the great test of our politics to attempt to stop these structural dynamics from re-emerging within our collective and the space. To all who have felt unsafe or unwelcome under the bridge because of this happening despite our efforts, we offer our sincerest apologies.
The Spinhuis has always treaded a precarious balance between our radical politics and the everyday concerns involved in the running of a social centre. Over time the space became primarily a host for underground culture and parties. Many who visited us perhaps do not remember our politics so much as the times drinking cheap beer at the bar and the wide range of events that attracted them. Our events were always free of charge and often doubled as a benefit for grassroots social initiatives. Those who could not afford this were welcome nonetheless. Budding artists, people who carry the stigma of homelessness, students, activists and neighbours all came together to organise film screenings, poetry slams, workshops, parties, people's kitchens, art exhibitions.
With mixed feelings and different perspectives we now reflect on the past two years, on the lessons and the successes. As the eviction of the space approaches, we all agree on one thing: the importance of the struggle for autonomous spaces. The state has been systematically eliminating free spaces like the Spinhuis for years. The Dutch state and Amsterdam municipality are trying to erase the rich history of squatting and community organising in this city, to relegate it to sensationalised history books and the speech of tour guides on the Spuistraat. For the crime of breaking free from the logic of markets and the politics of exclusion, the state tries to pull apart our communities.
Such a state is a state which obstructs the interaction between its own members and enforces social isolation – in this case through destroying spaces that break loose from its capitalist logic. We see it as our fight to take resistance against such a state. We foresee that our resistance in the coming weeks will produce questions from many different sides. The media, politicians and facebook commentators will ask the usual questions: "Why are these dirty squatters destroying everything? What is the use of this 'violence'?" "They wanted a neigbourhood centre, right?" People from the movement will perhaps wonder: "Why now, and not before?" But if the end of the Spinhuis has taught us anything, it is that we cannot win the war with 'reason', moderate talks and policy proposals. The tactic of negotiation has failed and will result in the Torensluis keys being handed over to a business venture disguised as a neighbourhood initiative. But the struggle continues, and so will we. With renewed knowledge and determination, we will defend the Spinhuis till the very end, and when the Spinhuis is gone, keep on fighting. We will fight for ADM, and for all free spaces that are yet to be taken back.
And yes, with fighting we mean fighting, with any means we deem necessary. With teeth. With barricades. With words and fireworks, spray paint and charm. Nothing of worth has ever been gained by asking politely: freedom can only be taken, either by you, or from you. We ask everybody, everyone who has ever felt welcome with us, everybody who drank to the revolution in our reclaimed dungeon, to stand with us in our battle for a free, social city for all.
---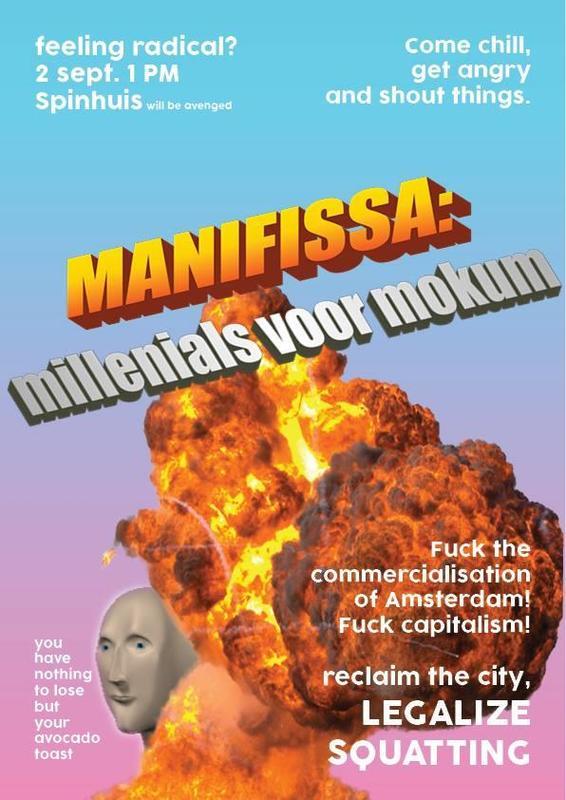 Manifestation rave for legalization of squatting, against destruction of vrijplaatsen and against gentrification.
Manifissa: millennials voor Mokum
2 september 2017, 13:00
Dear Amsterdammers, dear friends of Spinhuis, dear lazy and entitled and disillusioned members of our millennial generation. We've known it for a while, but it is only getting clearer: Amsterdam is fucked. Tourism is consuming the city, commercialism is killing the creative force and gentrification is kicking out everyone you care about. Monumental vrijplaatsen like ADM are forced to disappear. And now also, our beloved smelly dungeon: het Spinhuis.
Now, we can cry, we can fight, and we must and we will! But just to add a little more spice to this boiling cocktail of emotions and actions we wanna do something else. What is it? A manifestation? A rave? An old fashioned 'ludieke actie' to make our provo ancestors proud? It is a Manifissa.
Millennials of Amsterdam, unite! Let us rave through the streets of Amsterdam in glorious unison, and reclaim our city! Let us show these capitalist parasites the beautiful sparkling spirit that has been growing in the dungeons below their pedicured feet. Let us urge the municipality to legalize squatting. Make them realize that only squatting will revive the city, only squatting will allow us to find housing, only squatting will make Amsterdam the free, exhilarating city that she used to be.
Get our your avocados, because it is them who prevent you from finding a house, not fucking gentrification. Print some memes. Take a selfie dude idk.
We will meet at het Spinhuis (Torensluisbrug) at 1, then continue to the Bungehuis, march through de Spuistraat which will always remain our street, and finish at het Spui.
Spinhuis
Singel 165a, 1012 VK Amsterdam
http://spinhuis.org/