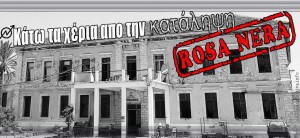 There are no hotels in Crete. Missing spaces are missing.
During the last years all the governments have carried out several campaigns of elimination of the self-managed spaces. What they want to achieve is that we find ourselves only in our homes, in the cafes, in the bars and in the shopping centers. That is, they want us to be just consumers and customers. Consequently, the offensive that Rosa Nera is facing in Chania is not fortuitous. The Rosa Nera building belongs to the Polytechnic School of Chania, and for thirteen years has been a place of struggle and emblematic culture, also covering roofing needs. In its facilities the tireless people who have worked hard to give life to the building have created a theater, a library and reading room, a space for presentations (of artistic creations), a children's park, a construction workshop, a space in which is a bazaar of gifts, an oven for the production of artisanal bread, and a coffee.
In these thirteen years hundreds of events, concerts, presentations, debates, workshops, parties, cafes to support collectivities and actions have been organized. All have had an anti-mercantilist character. It was recently learned that the rector of the University of Crete, Basilio Digalakis, in the framework of the expropriation of the University's fortune convened a competition in order to convert the squatted building into a hotel. From the beautiful view from the Kasteli hill, where the squat is located, you can enjoy only those who have a full pocket.
It is logical that governments want to deprive us of all the places in which we organize. It is logical that we want to resist by all possible means to this methodology. Our newly founded group calls for actions of solidarity and knowledge of the squat.
Take the hands of Rosa Nera.
Text of the Union Libertaria de Réthimno, published on its website on the occasion of the offensive recently unleashed by the University of Crete against the Rosa Nera squat.
https://www.ainfos.ca/ainfos58222.html
---
Squats in Greece: https://radar.squat.net/en/groups/country/GR/squated/squat
Groups in Greece: https://radar.squat.net/en/groups/country/GR
Events in Greece: https://radar.squat.net/en/events/country/GR
---
Rosa Nera http://rosanera.squat.gr/