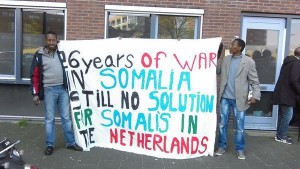 Yesterday, the Somali group of We Are Here won the court case against the State of the Netherlands with regard to their stay at Florijn 8-11 in Amsterdam-Zuidoost. The authorities ordered the immediate eviction of the 'Vluchtlumumba', which they started to inhabit on 9 April 2017. However, their request to stay until the end of the Ramadan has been granted by the Court of Amsterdam.
The group consists of 20 men who have been in the Netherlands for a long time. Some of them have been here for up to 20 years, without the possibility to go back, or to lead a normal life in The Netherlands. After being evicted from a previous building last year, they were on the street for four months. As many of them have various health problems and as they needed more time to find another place, the group decided not to leave the building as ordered, but demanded to be allowed to stay until 3 July.
The court ruled that the interest of the state to evict is less urgent than the right to housing of the current inhabitants of the place until 3 July. "The inhabitants should have some more time to find another place to live. It is further taken into account that the inhabitants are a part of a vulnerable group of asylum seekers, with a hopeless existence in the Netherlands. It's plausible the group will again be on the street after the eviction."
The Somali group is content that their difficult situation is partly being acknowledged by the court. "For now, we are very happy, and relieved. It is a great victory for We Are Here. We will indeed leave the building on July 3 as promised. We don't want to cause any trouble, we just want a decent place to live."
From 3 July the group will again be on the street however, while the night shelter of the municipality, the BBB (bed, bath, bread), is still full. Besides, it is not a solution, as leaves people on the street during the day. "We still call on everybody to change our problematic situation. We need a status for our basic human rights and a place to live on the long term", according to the group. Since the start of We Are Here, more than 80 of its members have been granted official refugee status.
"We thank the judge for taking our story seriously and this wise and human decision, and our lawyer and supporters for their help. We stand in solidarity with the other groups of We Are Here and wish everybody a Happy Ramadan."