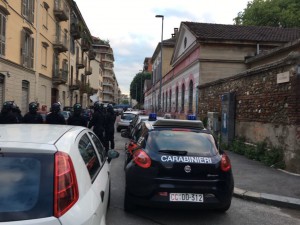 Heavily armed officers from the General Investigations and Special Operations Division of Italy (Digos) broke down the front door and invaded the Asilo Occupato (occupied asylum) building in Turin on Wednesday, arresting six activists.
Occupants of the anarchist-run space, located on Via Allesandria, in the neighbourhood of Aurora, resisted for several hours on the roof of the property before the raid. Carabinieri (Italian militarised police) also participated in the repressive operation.
Among the detainees are four Italians (Fabiola De Costanzo,Antonio Pittalis, Antonio Rizzo, and Giada Volpacchio), a Frenchwoman (Camille Casteran) and a Spaniard (Francisco Javier Esteban Tosina), who were detained as a "precautionary measure."
The arrests are related to a clash with carabinieri guards that took place on February 28th in the vicinity of Asilo. Agents alleged obstruction and damage to a police vehicle as they prepared to carry out the identification of a "suspect" but were stymied by the arrival of 15 people who blocked them from doing so.
Asilo Occupato has been targeted by repressive institutions for months, which have issued several precautionary measures against people who visit it, such as a ban on residing in Turin or preventive detention. In December, eight people were arrested for "not respecting residence prohibitions" imposed on them in a major dawn raid.
The site is one of the longer-running anarchist occupations in Italy, having been taken over by political punks in a tense and often violent standoff with police in 1995 in the midst of social upheavals which were taking place in the city at the time. For three months occupants passed their nights barricaded in the attic with two permanent lookouts perched on the tiled roof. Doors were armoured, windows barricaded — and despite evictions since, Asilo remains iconic of Italy's punk movement.
A short video of the raid shows police surrounding the building:

Freedom News https://freedomnews.org.uk/italy-six-arrests-in-latest-raid-on-asilo-anarchist-squat/