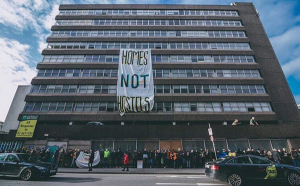 Hundreds of people responded to the High Court demanding the eviction of Apollo House by linking arms to form a protective ring around it. The judge refused the residents an extra week to find accommodation despite the housing minister failing to deliver what had been promised.
As the protest continued one resident told the Irish Times live feed that "We are not knocking on NAMA doors, we are kicking them in" People chanted 'Homes not Hostels', 'Homes for All' and 'House the Homeless' while a banner declared 'Homeless people are not the problem, they are the result of the problem.' Traveller activist Eileen Flynn who has volunteered at Apollo House told the crowd "We need to stand together … this is the best movement since 1916″
Speaking for Apollo House Rosie told the crowd about the betrayal of the minister and the treatment of residents who trusted his word but found conditions in the places they were brought to were "worse than prison". She continued "They are treating us like dogs, they are treating us like fools, we are not taking it anymore, this housing crisis is going to end".
In our compilation of video we shot during the protest we argue that the housing crisis is no accident – there are plenty of empty houses and apartments. The crisis in conditions for homeless people exists because as a deliberate discipline to scare the rest of the population into continuing to pay mortgages they can no longer afford and rents that eat most of their income. Huge numbers of politicians are landlords, property speculators or the people who take bribes from that wing of capitalism. That's why they have no interest in a solution.
______________________________________________
Minister Simon Coveney fails to deliver on Apollo House promises – protests today
It emerged overnight that housing minister Simon Coveney has failed to deliver on the terms he agreed in order to get Home Sweet Home to vacate Apollo House. Protests are taking place outside Apollo house and across the country in response to this betrayal.
Like many other TDs Coveney is a landlord, we know he earns at least 2600 a month from landlordism – it could be a lot more, TDs are only required to declare that there are landlords if they earn more than that figure, they are not required to say how much more. For landlords homelessness plays an essential role in keeping tenants in a state of insecurity and fear, it makes us feel we have no other choice but to pay rent increases.
With a lot of the bottom end of rented accommodation being overcrowded and substandard such landlords have a strong interest in making emergency homeless accommodation as unpleasant as possible. The sight of people sleeping in doorways keeps their tenants paying. Likewise banks who sold people mortgages that are now almost impossible to pay have a strong interest in maximising the fear of eviction.
Neither group could have liked the deal Coveney agreed to, as it threatened to create a floor below which the homeless wouldn't fall and that might reduce that fear factor. So it's not that surprising that when the minister returned from the discussion he came under pressure from that sector to tear up what had been agreed.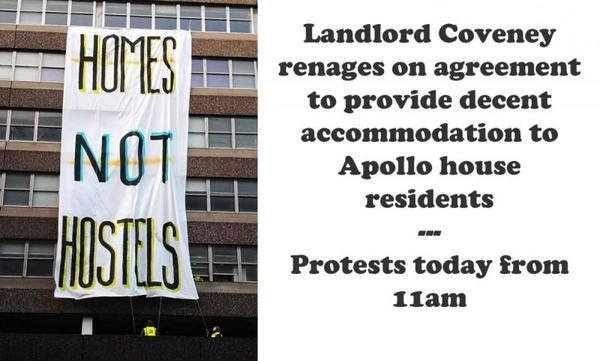 Home Sweet Home explain
"Eight residents have been forced to return to Apollo House after being offered sub-standard accommodation by DCC with one man given a bedroom with blood on the walls, mattress and sink as well as syringes on the ground.
Other residents have reported threats of violence, no food available, no washing machine available and of other residents in the accommodation they were offered getting drunk injecting and smoking heroin in rooms. One reported hearing a gang threatening to stomp another resident soon. These kinds of deplorable conditions are what forced the residents to sleep rough on the streets in the first place instead of going to existing shelters.
The HSH campaign has set a minimum standard for the quality of accommodation provided to homeless people and the movement will not accept these inhumane conditions. These minimum standards are focused around the residents' specific individual needs being met, both when they immediately enter the service, and in the long term."
Today Home Sweet Home return to the High Court which has issued an injunction against the occupation. As we revealed at the time of the court case the High Court has issued multiple 'eviction by injunctions' against large occupied buildings over the last two years and on the day of that case all of these building were still lying vacant.
In advance of the case the campaigners say "Home Sweet Home will, as per the agreement, only leave when the residents' immediate needs have been met. The needs of the residents as of this evening have not been met, and only when they have been met will the residents and Home Sweet Home be leaving Apollo House. If you can't join us at 11am in Dublin there are 7 other national rallies to support the HSH movement Wednesday"
Solidarity actions happening across the country (Sligo, Cork, Wexford, Galway, Belfast)
Are you living in Kildare? Interested in showing your support for Apollo House residents and campaigners?
Today at 12 noon at the Town Hall in Newbridge, Housing Action Kildare are holding a short event to express solidarity with the residents and campaigners currently occupying Apollo House. Please come along if you're free.
Andrew Flood – Workers Solidarity Movement
http://www.wsm.ie/c/hundreds-ring-apollo-house-high-court-evictions
http://www.wsm.ie/c/minister-simon-coveney-fails-apollo-house-promises