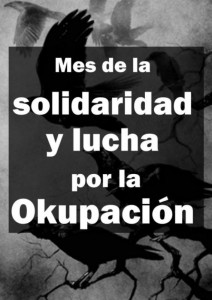 We understand occupation (squatting) as a tool of fight whose main purpose is far from the idea of shaping recreational places. It is an strategy to fight, theoretically and practically, against property as a key pillar of capitalist democracy. Occupation (squatting) is beyond merely logistic.
It brings partnership among comrades, builds affinity networks and solidarity, as well as create meeting points to discuss, share experiences or to make out some self criticism. Okupation is not and end but a mean that allows us to organize ourselves and conspire. It is a tangible expression of the notion of "Do it yourself".
The power has done everything to erase any self-management projects since they prove our capacity to organize ourselves outside the system. For that purpose, many strategies have been deployed. From harsh repression; raids, arrests, police farce, to "kinder" strategies based on negotiation. Despite superficial differences, the final end of these strategies is the control and domestication (of our ideas and practices) of social movements.
For some time now, Madrid City Council, a so-called council "of change", has deployed a warfare of harassment, threat and burnout against squatted social centres. They disguise their real purposes through a deceiver maneuver of fake dialogue, using blackmail to achieve the assimilation of these collectives. What is been sold as an exercise of tolerance and understanding, as an effort to strengthen social networks, is nevertheless an attempt of demobilization and devitalize those who don´t accept their imperatives.
Throughout bureaucratic mechanisms such as buildings maintenance checkups or inspections of the developed activities, the City Council offers two options: regularisation or eviction. They offer to allow keeping on with the activities in social centres as long as they are supervised by a competent authority. It could be done in the actual location provided that they are establish as legally constituted associations or making a request for a ceded public place. Administrative sanctions, seals, identifications and city police regular visits are used as a tool of pressure. City´s regulatory framework whereby the guidelines concerning the transfer of public places to collectives, approved by the city council in February 2016, provides the basis to polarize once again the squatting movement between legal or illegal projects.
As anarchists, we believe squatting can´t be legalize since it´s purpose is precisely transgress every rule imposed by the political, social economical structure. To accept their rules would legitimate their tutelage. We place ourselves against the creation of squatted places under the cover of any governmental institution and we reject any negotiation, agreement or dialogue that could mean to surrender completely or partially to our perspectives of action and direct confrontation. We believe in conflict. We believe the State cannot be defeated from inside. That is why, we call to solidarity with the squatted social centres threatened by eviction in Madrid, and by extension, all occupations that defy power standing up to its threats.
The way to express support depends on the means and possibilities that each one of us has, but we encourage, this month or further, to undertake actions and activities that bring attention to our positioning and our determination not to give in to either the State or its threats.
Let us multiply the anti-authoritarian ideas and practices of solidarity and fight. 10, 100, 1000 squatted social centres.
Okupa Madrid
okupa_madrid [at] riseup [dot] net
http://okupamadrid.espivblogs.net/