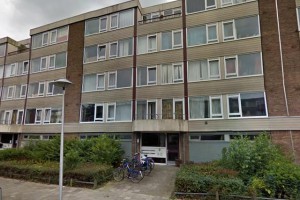 Evicting in neighborhood with 300 empty houses is useless.
Last weekend two new houses were occupied on the Monnetlaan in Kanaleneiland, Utrecht. Those homes were empty awaiting renovation in March. "It seems vacancy protector VPSitex considers metal plates a good way to protect vacancy, we think it's not." says one of the squatters.
The first eight houses, Monnetlaan 97-111 were occupied last April in protest agents racist policy of gentrification in this neighborhood. 1100 affordable houses would be demolished because renovation was impossible. Of the replacing new houses only 25% would be social rent. When the social housing corporation 'foundation Mitros' almost bankrupted itself and government took over financial responsibility, this megalomaniacal project was dropped. The local government nor the housing corporations knew what to doo with those 224 social houses where they already kicked out the renters. Ultimately they were sold for € 0,- to the Qatari- Swiss asset trust Aventicum. Interesting to note is that this company's head of real estate is the west- Flemish prodigy Christophe Tanghe, yes the same one that run ING bank to the ground when he run real estate there. This asset trust will renovate the houses; well… they will replace the windows. After that you may buy a 70 square meter house for € 140.000,- with the obligation to finish the renovation within two years. Some of the houses may become open market tent, € 1.200,- a month. Non available for low income groups.
Result of all this; almost thousand families who can't get a mortgage and can't pay the astronomical rent are forced out of the city. One of the squatters: "Mainly non- white families are forced out to pave the way for mainly white families, pure racist policies under the pretext of neighborhood improvement."