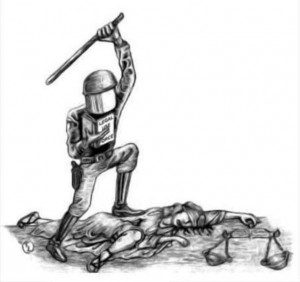 On wednesday the 27th of july the judge decided about the eviction of 8 squatted buildings in Kanaleneiland. The demand of the squatters has been turned down. Starting from the 15th of September the police is licit to evict the buildings. The reason behind this verdict is not yet clear. However, during the courtcase it did was clear that the owner doesn't benefit from eviction, as they don't suffer any damage by the situation. "This is about a principle: the government of and coorperations in Utrecht agreed not to negotiate with squatters." -the squatters.
The houses have been squatted in April out of protest against urban 'renewal' (destruction). The project in this area (kanaleneiland centrum) means 1100 social housing houses ( (: ) have been destroyed so far. They will be replaced by private renting and expensive houses for sale. Only 138 social renting houses have found a place is this… urban renewal. Squatter Rogier: "Urban destruction means the deportation of not-white residents to establish white enclaves."
The fact that Utrechts' local government and its cooperations choose this principle position is self-evident. Ofcourse they don't enjoy it when their policies get criticized. However, it becomes clear here that the police and public prosecutor choose to serve their personal profit, and they get judicial back up! "The squatters express legitimate and well-founded criticism of racist policies." – a squatter. That should not be suppressed by the police of an open democracy.