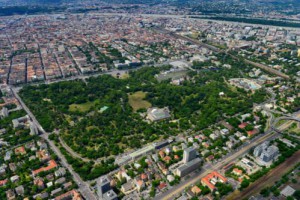 I will start this post with a piece of news that at first glance may not seem especially noteworthy. Viktor Orbán's grandiose plans for rebuilding large portions of Budapest include the creation of a "museum quarters," part of which would be built in Városliget, the Hungarian capital's more modest Central Park. The city, especially the Pest side, is very short on green areas, and from the very beginning many people objected to the project on ecological grounds. Others objected to Viktor Orbán's burning desire to move his office into the historic castle district, within whose medieval walls Hungarian kings once resided. Today parts of the royal castle, built in the nineteenth century, are used to house the National Library and the National Gallery. Among Viktor Orbán's extravagant plans is the reconstruction of the monstrously huge royal castle, which requires moving both the National Gallery and the National Library elsewhere. The trouble is that there are no suitable buildings where these two important institutions could be relocated. Hence, the idea of a "museum quarters" and perhaps even a new building for the National Library somewhere near the National Museum in downtown Pest. All this would, of course, cost an enormous amount of money and would, in the process, destroy the "city park."
Until recently the people who were actively opposing these plans came from the ranks of those who were also critical of the political system Viktor Orbán has been creating in the last six years. But dissatisfaction with Viktor Orbán's regime is spreading, and we find that more and more conservatives no longer think that criticizing Fidesz is tantamount to making a pact with the communist devils. In fact, they have been joining forces. Admittedly, their criticism is limited. They are not ready to admit that Viktor Orbán's whole edifice is rotten, but they seem to have overcome their passivity and their reluctance to come to grips with the painful truth that they were duped.
The government invited well-known architects, city planners, and museum directors to help come up with a coherent plan but, as usual, members of the government who were in charge of the project went ahead with their own ideas without paying the slightest attention to the experts. Eventually, last December, the invited experts had enough and resigned en bloc. It was this group that began a protest … against the "takeover of the Castle" and the construction of large buildings in the city park. They approached well-known intellectuals and public personages to join their protest. The list includes such names as József Ángyán, former undersecretary of agriculture in the second Orbán government; Géza Jeszenszky, former foreign minister and ambassador to Washington and Oslo; Levente Szőrényi, a composer with right-leaning views; Tamás Mellár, a conservative economist; and József Zelnik, a Christian Democrat who is the deputy president of the much-criticized Magyar Művészeti Akadémia, a gathering place of ideologically driven artists. Géza Jeszenszky warned in a radio interview today that there are times when a government must listen to the voice of the people, and it can go against their wishes only at its own peril. The enormous amount of money being spent on this ego trip of Viktor Orbán should instead be spent on education and healthcare.
A more important sign of change in the attitude of former Fidesz politicians who foresee possible disaster at the end of the road on which Viktor Orbán has embarked can be found in two studies written recently in a volume of essays titled A magyar polgár (The Hungarian citoyen). They were written by Péter Tölgyessy, a jurist and political scientist, and István Stumpf, head of the prime minister's office in the first Orbán administration and currently a moderate member of the Constitutional Court.
I will have to postpone an analysis of Tölgyessy's essay titled "From dead-end to dead-end" because of the pressures of time and space. Today I'll limit myself to Stumpf's essay about the metamorphosis of a group of college students. Of course, he is talking about one particular group of students under his care. He admits at the beginning that he is biased because his life has been closely intertwined with the fate of these former college students, so he tries to rely on "Weberian sociology in the interpretation of their behavior."
When it comes to Fidesz's early political activities, Stumpf is anything but objective. He finds it difficult to face Fidesz's "first metamorphosis" from a liberal to a conservative party which, in my opinion, was a radical ideological change that signaled its party leader's lack of principles and insatiable appetite for power at any cost. He glides through the first Orbán government in which he was deputy to Viktor Orbán between 2000 and 2002, viewing it as a positive period in which the only serious problem was "the style of governing." I don't expect István Stumpf to critically dissect the Orbán government's political moves during this period, but if he were capable of doing so he would discover that the first Orbán government did not "respect the constitutional demands of the rule of law." The truth, which Stumpf is incapable of seeing, is that the only reason that Viktor Orbán and his cohorts "respected" the constitutional court was that they didn't have enough power to squash it.
So, what brought about the change in Viktor Orbán's thinking between 2002 and 2010? "It became clear to him" that "the whole structure of the regime change must be destroyed," including all its accomplishments. The political failures Fidesz had experienced taught its leaders "to look upon politics as a battlefield and use their majority ruthlessly." At this point Stumpf sets out a long laundry list describing all those moves that "significantly eroded the belief in constitutional democracy." Here again, we catch him trying to minimize the sins of the Orbán regime. The Orbán government's policies didn't "erode the belief in democracy," as he claims, but it ate away at democracy itself. The huge problems created by incompetence and the neglect of education and healthcare are described by Stumpf merely as "functional woes which created dissatisfaction even among conservative members of the elite."
After another paragraph listing accomplishments, this time on the international stage, Stumpf arrives at the most important part of his short essay. "These successes cover like thick fog the tensions that have been brewing in wider and wider segments of society. The majority of the country's citizens are not in a euphoric mood." Today Hungary is not an attractive country for its young citizens, and "if a country loses its talented youth, if they feel no affinity for politics, and if instead of knowledge and expertise the path of a career depends on loyalty alone, then Hungary will not become a country with a future."
I know that many of you will say that this is not much, given the terrible damage that Stumpf's favorite college boys have inflicted on the country and on the fabric of Hungarian democracy. But, for the time being at least, we will have to be satisfied with it. In the last six years we haven't heard a peep, at least not publicly, from supporters of Fidesz and admirers of Viktor Orbán. Even a few months ago it would have been very difficult to imagine István Stump's essay appearing in the same volume as essays by Iván Szelényi, Péter Felcsuti, Péter György, Éva Palócz, Virág Erdős, Zsuzsa Ferge, Krisztián Grecsó, Péter Nádas, and Pál Závada. This is a first step and, as they say, the first step is always the hardest.
source: Hungarian Spectrum http://hungarianspectrum.org/2016/03/18/joining-forces-conservatives-raise-their-voices/