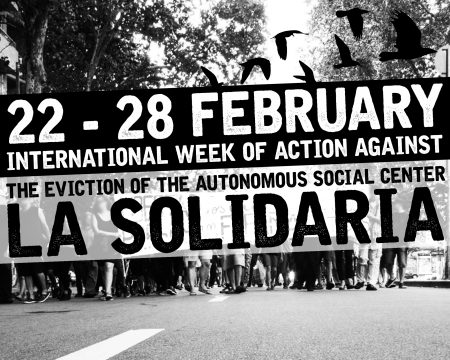 La Solidaria is an autonomous social center that opened it's doors in 2012. The building was occupied in order to serve as a tool to help practice our own autonomy and the development of the social struggle.
Near the end of October last year we received a letter of eviction urging us to abandon the building. Just as it had happened in 2013 it'll be dificult for them to beat us.

We have defended and we shall defend this place, not just as a physical building, but as headquarters to codes and principles opossed to the relationships set by the State and Capital. It's used to power another type of relationships based on solidarity, self-management, horizontality and direct action. We consider ourselves to be part of the social conflict, part of a bigger project to transform our current reality. To end this world run by money and create one based on freedom and solidarity.
The press is already running errands to the State and the speculators who bought the house, they're preparing the terrain for the eviction. We find the project in crucial moments, throughout the last week of February the final decisions will be made about the eviction. It is for this reason that we call for a week of actions in cooperation with this space, a week of solidarity against the eviction of La Solidaria.
Every hit reaffirms our way and make us stronger! To the threats of eviction: More resistance! More action! Solidarity knows no boundaries. Keep their hands out of our social centers!
Assembly of the autonomous social center La Solidaria.
lasolidaria@@@mail.com