After huge solidarity the Zapatista affiliated Chanti Ollin has been reoccupied.. though at least 9 people are still arrested, needing bail money, and some injured, the damage is huge, things have been robbed, children terrorised, workshops ransacked, etc.
here's the reoccupation video….
Squat Eviction in Mexico City—– Chanti Ollin
At 6am yesterday morning, Chanti Ollin, a 12 year old squat in Mexico City, was evicted illegally and unexpectedly. There was no eviction order, and the squat had been fighting successfully in the courts to keep the building from being passed on to a large development company.
There were around 10 arrests during the eviction. In Mexico, detainees can be kept indefinitely if they don't/can't/won't pay bail. The bail for these arrests so far is $11,891 pesos (equivalent of £534.58), which is a lot of money here.
There have been call-outs to raise this, and there is also talk of refusing to pay it to the government in order to highlight people's lack of rights and the corrupt prison system.
More people were arrested and brutally beaten at the solidarity demo outside the copshop.
This eviction comes less than a week after the International Festival of Rebellion and Resistance against capitalism, called by EZLN (Zapatista communities) and the Sexta International, of which Chanti are members.
Chanti is also involved in the solidarity movements for the 43 assasinated students disappeared during protests in Ayotzinapa. It is quite clear why the Mexican government would want this active, autonomous squat to disappear too.
The building was re-occupied today! The squatters have called out for support in order to occupy the building, and also to spread the word about the arrests. ¿Are UK squat networks up for calling solidarity actions or benefits? Banner drops/Demo outside the Mexican Embassy/Messages of support..
Stop the repression of squatters and anarchists
¡Alto a la represión y a la criminalización de la protesta social!
¡Presos políticos libertad!

 http://mexico.indymedia.org/spip.php?article3500


 https://chantiollinmx.wordpress.com/


 http://sexta-azcapotzalco.blogspot.mx/2015/01/comunicado-del-chanti-ollin-las.html
---
Violento desalojo y detenciones de integrantes de la comunidad autogestiva Chanti Ollin
Originally posted on Zapateando: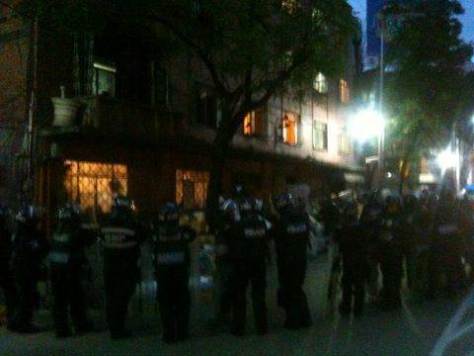 Violento desalojo y detenciones de integrantes de la comunidad autogestiva Chanti Ollin
Zapateando Medios Libres
Con fotos de Los Tejemedios e información de diversos medios libres
Policías del GDF, sin orden de desalojo y apoyados por golpeadores, desalojaron violentamente a la comunidad de Chanti Ollin, adherentes a la Sexta y participantes en el Festival Mundial de Rebeldías y Resistencias al Capitalismo
Ingresaron aproximadamente a las 6 de la mañana a sacarlos de su espacio de trabajo y resistencia anticapitalista en Río Elba y Circuito Interior en la ciudad de México, apenas a unas calles de las avenidas Reforma y Chapultepec, cerca del metro Sevilla.
Durante el desalojo la policía impidió el acceso a medios libres y prensa.
Hay al menos diez detenidos, pero podrían ser más. En ese espacio de trabajo, autogestión y apoyo mutuo vivían incluso familias con niñas y niños. Entre los detenidos están Irving Trejo, Jonathan Méndez…
En las sedes de Xochicuautla y Lienzo Charro del Festival Mundial de Rebeldías y Resistencias contra el Capitalismo vendieron pan integral y llevaron alguna de las ecobicis que ellos diseñan y construyen. Con ellas hacen funcionar un equipo de audio, licuadora y otros aparatos eléctricos.
Han participado en las movilizaciones en solidaridad con los 43 normalistas desaparecidos de Ayotzinapa.
El edificio está en litigio legal porque un antiguo administrador, a la muerte del dueño, ha tratado de hacerse pasar como dueño, pero la comunidad de Chanti Ollin está en posesión del edificio y lo ha habitado al menos desde 12 años o más. Además han ido ganando los recursos legales interpuestos. Al parecer detrás del litigio hay una empresa inmobiliaria que pretende gentrificar el lugar, ubicado en una zona de alto costo de suelo y de altas rentas.
A los al menos 10 detenidos durante este desalojo los consideramos y reivindicamos como presos políticos. Su desalojo y detención forma parte de la política represiva del GDF- PRD y de la política contra los jóvenes, los estudiantes y la protesta social de Mancera.
¡Presos políticos libertad!
---
Hay varios heridos y se reportan 10 detenidos, aunque la lista de nombres por ahora se limita la siguiente:
Irving Trejo
Jonathan Méndez
Esperanza Ortega Elvis
César García Soto
Edgar López Ramírez
Fidel López Ramírez
César Gómez Ramos
Alejandro López Miranda
Ramón Crak
Las personas detenidas fueron trasladadas al Ministerio Público de la delegación Cuauhtémoc, ubicada en las calles de Mina y Aldama en la colonia Guerrero. Se les acusa de ultraje, resistencia y daños. Al ser detenidos fueron golpeados por personas vestidas de civil, sin ningún tipo de apego al debido proceso.
El Chanti Ollin es un proyecto cultural autogestivo que ha conseguido, además de mantenerse como proyecto, construir alternativas concretas para temas alimenticios y energéticos tomando en cuenta el contexto urbano. Su trabajo es conocido por muchas personas y recientemente participaron de manera activa en el Festival de las Resistencias y las Rebeldías contra el capitalismo, el cual se llevo a cabo del 21 de diciembre al 3 de enero entre Xochicuautla, Estado de México y San Cristóbal de las Casas, Chiapas.
El Chanti Ollin, hace un llamado a la Sexta nacional e internacional para:
Apoyar en el resguardo y traslado de las pertenencias que se han dejado afuera del edificio.
Apoyar afuera de las instalaciones de la delegación Cuauhtémoc en las calles de Mina y Aldama.
Cabe señalar se teme por las pertenencias del colectivo, pues durante el desalojo y las detenciones, una compañera fue despojada de 2 Mac y un IPhone. Además, la policía se robó 16 mil pesos del taller de panadería y 4 mil de la cooperativa.
Chanti Ollin se declara en plantón permanente a partir de hoy y hace un llamado a la solidaridad.
Más información: https://chantiollinmx.wordpress.com/
Published on Audio, Free, Alternative, Autonomous Media
Tags: , Chanti Ollin, desalojo