This morning a house on the Van Sijpesteijnkade 25 has been squatted. The police has passed by and is deciding if they are going to do something. The building is property of NS, who is buying a lot of buildings around the station for huge development plans. The whole street will be demolished on short terms, but because this building is a monument they integrated it into the new building plans and it wont be demolished. When these plans will take place is still unclear.
The neighborhood has protested the plans to demolish the street. The buildings are beautiful, there is a lot of history in these buildings and they are in good conditions to live in. The plans for the new buildings are dull, grey and not inspiring. The demolition of this street is a shame, but is made possible because the old residents have been replaced years ago for anti-squat. Anti-squatters can be kicked out on short notice.
Utrecht still has a huge lack of affordable housing, with less and less social rent houses and more expensive houses for sale. On top of it all, beautiful monumental houses are left empty! The new residents think this is unacceptable and they have found their new place here. Soon there will be social initiatives taking place, what exactly is still unknown. Ideas from out of the neighborhood are welcome.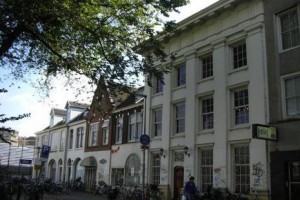 Police left without accepting the squat letter.
Published on https://www.indymedia.nl/node/21347
Update: 19/02/2014 – 16:20
The new residents are still in the house! According to the police the NS went to press charges, but there has been no reaction to that by the police. The squatters handed out a lot of flyers. 99% of the people that we spoke to (passers by and neighbours)are very positive about the squat. Everyone thinks it is horrible that this street will disappear. This last bit of history should stay.
The protest against the demolition has been going on for years. More information about this http://www.lombokcentraal.nl/sijpesteijnkade
DONT DESTROY BUT RENOVATE!