Frontal attack / Head-lamp attack
March 20th-28th in Grenoble
It's the end of the winter. Eviction time is back.
Because for squatters, the poorly-housed, Rroms, illegal immigrants, people who find it hard to pay the rent, the return of warmer days also means the end of the winter break for evictions.
To show that forms of collective solidarity exist against these dark aberrations and to highlight the wrongdoings of private property, from March 20th to 28th a «?Frontal attack?» will take place : an intersquat festival against evictions and private property, to reclaim the city. During the festival, numerous activities will be organized by/in different squats in and around Grenoble : a week of live shows, movie screenings, walks, vegan meals, discussions and more, to confront the political managers who are ru/i/n/ning our city and lives.
Indeed, private investors and public decision-makers maintain a logic of sterilization of the city : destruction of working-class neighborhoods to make space for HQE (High Environmental Quality) complexes for CEA (Commissionership on Atomic Energy) executives, eviction et repression of troublesome populations… In Grenoble like elsewhere, gentrification is at its height.
And it's not the regional elections on March 14th and 21st that will bring any solutions : whatever their political adherences, the elites in power will keep on maintaining these urban and social logics.
Because we are all facing housing difficulties, to be able to confront these issues collectively, and because we are not an enlightened avant-garde, we invite you to participate to this «?Frontal Attack?», we'll bring the city of Grenoble to light in a way that will put the MC2 (Culture house of Grenoble) to shame.
Intersquat Festival
Against evictions and private property… Let's reclaim the city!
More info:
http://grenoble.squat.net/
The festival's poster (big one):
http://grenoble.squat.net/2010-03_Grenoble_Festival_Intersquat-B.jpg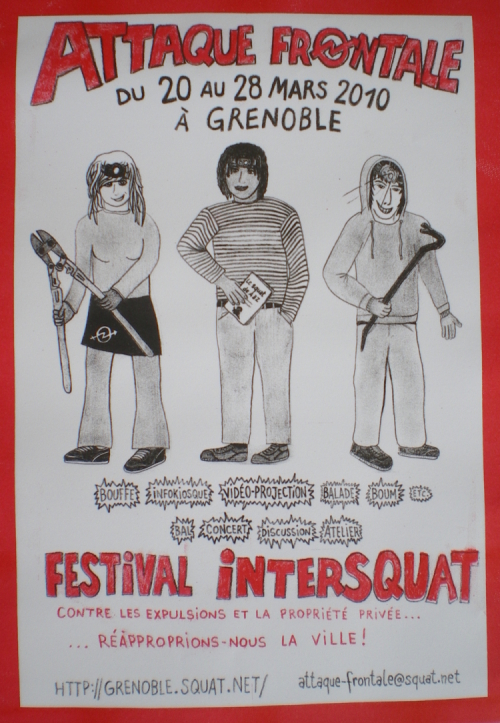 Contact:
attaque-frontale at squat dot net