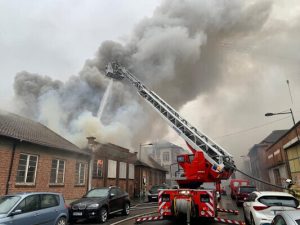 Press release of the school 404
This Saturday, April 10th, a fire took place in the former school 14, rue Capronnier 1, in Schaerbeek. Renamed School 404, this place was inhabited since March 2020 by about thirty people and several associations including Hope4ever and the ASBL 404. Fortunately, there were no physical injuries. On the same day, the municipality enforced its decision to evict these inhabitants from their dwelling by the police.
The course of this day and those that followed, the handling of the situation by the public services, the forces of order, the firemen, the media and the owners of the place, reveals various mistreatments, discriminations and abuses of all kinds.
We will not keep quiet about our anger and refuse that once again, our dissident voices are silenced and stripped of their political dimension. We refuse the stigmatization of squatters, and claim squatting as one of the most relevant and emancipating political dynamics in the city of Brussels today. [Read More]