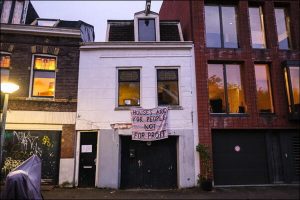 Since some days now we, the Anarcha Feminist Group Amsterdam, have been residing at Ringdijk 8. We have decided to expropriate this building because we think it is disgusting that houses are being kept empty for years while we are in a housing crisis, many people are living in precarity and homelessness has doubled in the last 10 years.
In previous actions we have targeted big speculators such as Blackstone, squatted buildings in solidarity with sexworkers being pushed out of our city and against the greenwashing and promition colonialsers and gentrification done by NV Zeedijk in the red light district.
Today we take an autonomous action as part of the ongoing housing demonstrations. Just marching and hoping the government will listen to us is not enough, actually the government listened to the demands made by the housing movement and their answer has been loud and clear: no measure taken to solve the problem, but instead they sent cops to silent us, mutilating our bodies, making blacklists and arresting us.
We need to confront injustices directly whenever and wherever we see them. Today we target the housing cooperation Eigen Haard. This building, owned by Eigen Haard, has been squatted before and has now been empty and left to rot again for a long time. [Read More]