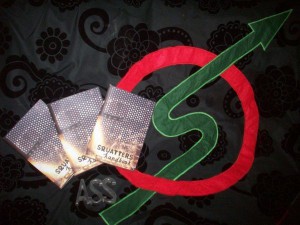 The Squatters Handbook  (ISBN 0 – 9507769 – 7-1) has been published by the Advisory Service for Squatters in London since 1976. It is now in its fourteenth edition and provides over a hundred pages of detailed legal and practical information about squatting and homelessness in England and Wales. Be aware that the law is different in Scotland and Northern Ireland and that the info in the handbook won't apply there.
We put out the 14th edition of the handbook in October, 2016. More content, easier to read, plus glossary and index and more up to date.
It costs only £2, or £3.50 with postage. Arrangements for squat groups and bookshops.
If you're in London, come into the office to pick them up. Otherwise, write, phone, or email for your copy. Send us your name and address along with a cheque for £3.50 written out to ASS, or seven 50p stamps (or equivalent), and we'll get one in the post straight away. We don't take credit cards. If you urgently need one, call or email us with your details and we'll send one out along with an invoice. If you live outside of the UK, you can order them from AK press. Contact us for bulk rates if you need a load of them. [Read More]