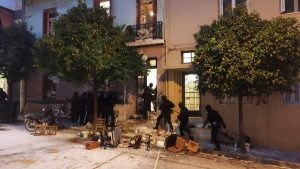 We may have fallen, but we've fallen on their heads.
Statement of the squatters and comrades who defended Matrozou 45 and escaped from the MAT, OPKE, and EKAM police forces of repression. While facing a police raid, we were informed to the fate of the other houses in our squatted community.
We immediately barricaded the house and entered conflict with the forces of repression. Furniture, electrical appliances, boilers, paint, fire extinguishers, everything and anything in the house fell upon their heads. They responded by shooting and injuring us with plastic bullets as well as with stun grenades thrown directly into our home. We shouted "Here we live, here is our home, here we will die!"—"Fuck your development and Airbnb."
When they finally did get in, completely chaotic factors and a survival instinct offered an escape path. The memories that push us forward were awakened as inspiration by the forces of repression. These mercenaries could not accept that those who resisted them had escaped. We assume they were sad they couldn't catch us to beat and torture us. In response to this embarrassment, they turned to accuse random neighbors of arranging our escape. Like true mercenaries, the cops targeted the first house they found in front of them. They carried out an armed invasion, beating and capturing an entire family, concluding by arresting the father and both sons.
The state that claims to protect the institutionalized Greek family and the sanctity of private property lost their focused target. Not having captured those resisting, they took to beating people at random.
We send our respect to the woman and her family who refused to let the cops enter their home illegally, paying the price for their choices.
We send infinite love to our companions and to every person who supported us.
Solidarity with those arrested in the occupation of our community.
We may have lost all our belongings, we remain without clothes and shelter, they may have temporarily erased from the map three houses and three years of continuous and painstaking work for social solidarity and resistance; but we know they are afraid, our momentum and power is uncontrollable.
Solidarity with the occupation of the Villa Kouvelou and all squats.
Let the evictions of squatters become the reason for the escalation of the struggle on every social front.
---
Koukaki Squat Community
Matrozou 45, Koukaki, Athens
m45community [at] riseup [dot] net
https://squ.at/r/43uf
Some squats in Greece: https://radar.squat.net/en/groups/country/GR/squated/squat
Groups in Greece: https://radar.squat.net/en/groups/country/GR
Events in Greece: https://radar.squat.net/en/events/country/GR
---