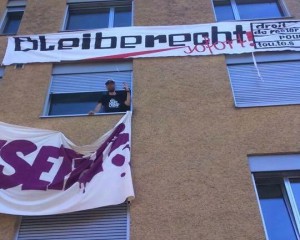 In Switzerland, refugees are often isolated and housed in old fall-out bunkers all over the country. There is, of course, no sunlight and people are exposed to constant harassment by the authorities. Frida Frey spoke to one of thirteen illegalised refugees who took into consideration, that for them to get out and be part of society is more important than complying with what the state tells them to do. He doesn't want to be called by his real name, he prefers to be called by «something simple, like 'illegalised refuge' or 'refuge activist'». In March 2017, they decided to move into a derelict house in central Zurich that is owned by Credit Suisse Group AG.
Hey, can you tell me something about the house?
The house exists since one month and has another month to stay. The current owner is Credit Suisse that wants to start with the construction for a new building in a month. It's an apartment with 4 floors and 9 flats and a garage for 10 Cars and 24 rooms.
How was the squatting?
We were a group of people, refugee and some swiss activists that wanted to support us and they helped us in communicating with the owner. During the time our swiss friends were talking with the owner, the rest of us was really panic that there could happen something bad what could have severe consequences for us. But surprisingly, all went really good and we made the deal that we could stay for two months. We just make no noise and no trash and we pay for water and electricity. It's the 3rd house we try, so we are really happy that it worked out. [Read More]