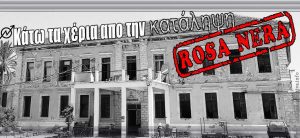 Rosa Nera is an autonomous, anti-authoritarian political collective and since 2004, has squatted and given its name to the historical building that was formerly known as the "5th Army Division", declaring it, for the first time in its history, a liberated space.
The squatted building of Rosa Nera, was built around 1880 by the Turks as a palace for the local pasha. It continued to house different representatives of the authority, the latest being the local military command, during the military dictatorship of Papadopoulos.
In 1985 the building passes from the ministry of defense to the ministry of education, which offers it to the Technical University of Crete, under the condition that it would be used solely for educational activities. Nevertheless, from 1985 till 2004, the building was totally abandoned.
In June 2004, the building was occupied and revived. It was transformed from a ruin that was falling apart, into a political, cultural and social activities center, as well as a house. Everything was accomplished with collective work, collective will and collective financial support. That means that the people did it all, by organizing themselves through horizontal and non-hierarchical procedures. [Read More]