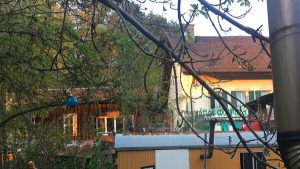 If the commercial gardening project "Espace Blécherette" in the Châtelard area seems to leave a lot of uncertainty as to its realization and painfully reminds us of previous urban planning setbacks in Lausanne, there is still a shadowy area: the displacement of about 20 people.
It's been almost 7 years that we have been living in the farm of Châtelard 103. It is the house just before the entrance to the Blécherette highway with paintings on the facade. There are trailers and shacks too. Recently, the City of Lausanne, owner of the place, decided not to renew our current contract of loan for use and to put an end to our occupation of the place. It puts forward the will to replace us by an organic agricultural project. We are opposed to the latter, but we will be receptive to projects compatible with our habitats.
We aren't trying now to make another pamphlet on the right to housing. Let's just say that housing, like water and food, is a primary need of the individual and should therefore be a right. In the face of real estate speculation, in the face of voracious and mafia-like management and their exorbitant rents, and in response to the inaction of the State, incapable of stopping these vulgar appetites, we occupy houses.
For years the squatters and their supporters have been organizing demonstrations, writing texts, talking to journalists, putting up posters, occupying houses (for themselves and for others with less privilege), explaining, justifying ourselves, proving one is acceptable, screaming, raging, mourning, rejoicing.
For years we have been defining the contours of our lives by appropriating empty places, living in them, organizing our personal, family and militant lives. We rely on each other, we care for each other. We provide an essential space for people who do not recognize themselves in institutions and/or whom institutions do not recognize. For years we have been nurturing this nebula that we cherish. For years we have been fighting for space, for oxygen in a neo-colonial, misogynistic, greedy and destructive world. And, for years, the City has pretended to listen.
The City proudly brags, through the media and even in some of the brochures it publishes, of the richness of its alternative/underground life. As a good left-wing municipality, it advocates diversity, tolerance and open-mindedness, and during the cultural events it organizes, it goes so far as to re-appropriate elements coming directly from the alternative scene.
However, to our great regret, as soon as we leave the event context, it seems unable to accept that all these beautiful moments of culture and politics exist outside its prism and refuses to recognize these ways of life as an integral part of any city.
In fact, at the decisive moments, the city shows us that it doesn't care about our life choices and our idea of community housing. We see it today, when it puts out a competition for a market garden project offering land and… our house.
With the motto "May the best win", the City is cleverly inviting us to participate in the competition, imagining that it can play on public opinion and wash its hands of its role as the evil landlord, when in fact they are evicting us. The City dictates its vision of the world, and excludes us to the point of proposing a farm without even mentioning that some twenty people live there, including children, cats, dogs, canes. Above all, the City forgets to mention that we meet, that we organize ourselves, that the multicolored parades on wheels during political demonstrations leave from our farm. That our "project" has been going on every day for almost 7 years, that we have workshops, a music studio, a silk-screen printing workshop, a concert space, that we are a place of welcome for more than a hundred different people a year, who find refuge here for a few nights.
Replacing all this with cold storage, machine storage and staff housing for the lucky contest winners seem completely absurd, isn't? So absurd that one wonders if the City has a hidden agenda? Are we starting to settle down too much? Was the convergence of current struggles (anti-racism, anti-authoritarianism, anti-police violence, ecology, feminism…) becoming too tangible? Do we have too many allies? Too many connections? Or is it stupidly because we painted a flamingo charring a police car on our facade, after one of their umpteenth "blunder"? Is it because the walls of our beloved house are full of colors in the middle of an austere and homogeneous Swiss landscape? Or is it because the Canton wants to destroy our shacks, our beautiful escapes and the little rooms we built on stilts? (How ironic that we marvel at the "Tiny House" but still despise those who live like that in real life).
We will defend our right to collective living in the city. We did not wait on the Municipality of Lausanne to be ecologists and feminists. And we won't wait to see our values and ideals sanitized to claim our right to live on the fringe of the pages that people who have given themselves the right to do so write in our place.
For the authorities, our lifestyles are at most temporary stopgaps that they hate, and that they are eager to gentrify. Among many others, let's take the example of the Ferme des Tilleuls in Renens. Squatted for more than 15 years by different collectives, it has hosted hundreds of people, events, plays and small revolutions. It saw the birth of children and ideas, and was finally replaced, at a cost of thousands of francs, by a museum strangely out of place in the very proletarian city of Renens. As if there weren't enough refreshment stands downtown to drink a 7-franc zucchini syrup and attend contemporary art exhibitions.
Another showcase, a facade, a serious attack on the identity of a place, but above all, again this scourge of gentrification. Because such a museum does not bring the workers towards the urban center, but makes the most privileged people go down to the periphery by increasing the cost of living and by pushing the poorest further away.
Today, the City of Lausanne is green washing the Blécherette area, after concreting so many hectares of cultivable fields to make paying synthetic soccer fields. The former free and popular fields have also been concreted and covered by new buildings, while hundreds of apartments are empty in the city.
The City of Lausanne is proposing a "green" project next to the new stadium of the English petrochemical giant, Ineos!!! No, this stadium does not belong to the City of Lausanne, but to Lausanne Sport, itself owned by the world leader in styrene. Unable to fight against this ecological disaster, does the City imagine that it can get through this by giving a few hectares of land to market gardeners? What is certain is that it is laughing in our faces, daring to display the colors of an ecological and conscious left, when it applies to the letter the rules of a competitive and blindly liberal policy. Indeed, the City wanted this stadium at all costs, it was always part of the metamorphosis project. Really, we have been searching for it! But we will never understand this way of continuing to enlarge the city and concreting ecosystems, under the pretext of building "eco-districts"!
We will never value this false ecology, hypocritical and opportunistic. It is a spit in the face of those who fight every day to give a tomorrow to our days stained with the blood of animals and the pollution of the water tables. This "green" policy makes invisible the catastrophic dimension of our situation and makes the population believe that it is concerned about its future. It is only a showcase, commercial cronyism, shaking hands and especially elbows.
After this veritable orgy of concrete, the invitation to win the "Espace Blécherette" competition is not just a shameless instrumentalization of the winners, but a real political lie of which the future market gardeners become the actors in spite of themselves.
We will not remain without reacting to the liberal policy of a left-wing municipality that puts market gardeners and militants in competition. Because this is what is happening behind this nice contest. A power that destroys alliances, destroys solidarity and that pushes people with no bad intention, to dislodge people without even realizing it.
Since our arrival at the Chatelard farm, we have always cohabited with the two families of farmers who exploit the surrounding lands, one of them grazing cows, the other storing machines and trailers under a large roof next to our house. We have never wanted to limit their activities and we never have. If these farmers are replaced by market gardeners, we will not interfere in their activities either.
Our projects are reconcilable, compatible! Let us not be instrumentalized! Let's organize together!
We claim our right to stay at the Ferme du Châtelard! Support us! Write to us! We are numerous and we are strong!
Together we can build a future outside the hypocritical meanderings of the State.
We are looking for collectives, associations, etc., to support or co-sign this press release. Thank you for contacting us!
Porno Diesel
Route du Châtelard 103
1052 Le Mont-sur-Lausanne, Switzerland
collectifpornodiesel [at] riseup [dot] net
https://squ.at/r/6bz
---
Some squats in Switzerland: https://radar.squat.net/en/groups/country/CH/squated/squat
Groups (social center, collective, squat) in Switzerland: https://radar.squat.net/en/groups/country/CH
Events in Switzerland: https://radar.squat.net/en/events/country/CH
---
Renversé https://renverse.co/infos-locales/article/parole-aux-habitant-e-x-s-du-porno-diesel-3291