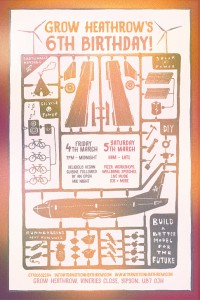 On March 1st 2010, Transition Heathrow members swooped on an abandoned market garden site in Sipson; one of the villages to be completely tarmacked to make way for a third runway at Heathrow.
6 years later, and Grow Heathrow is still here.
This weekend we're celebrating this hub of social activity and resistance against Heathrow's 3rd runway, and the hundreds of you who have made this happen over 6 years.
Come and celebrate with us!
Friday 4th March
3 – 5pm: The Beauty is in the Struggle: Come along to the Sipson mural. Add your hand prints to the many celebrating the beauty that lies in the struggle of Sipson Village. Outside the Zayani restaurant UB7 0HU.
Open Mic Night: Join us in the evening for vegan cuisine and music. Bring your instruments! [Read More]