Dear Friends of LA NAVE ESPACIAL,
In just few days starts the Revindication Week (28  of May – 2 of June 2013) against the eviction of la Nave Espacial.
As usual all the activities are FREE.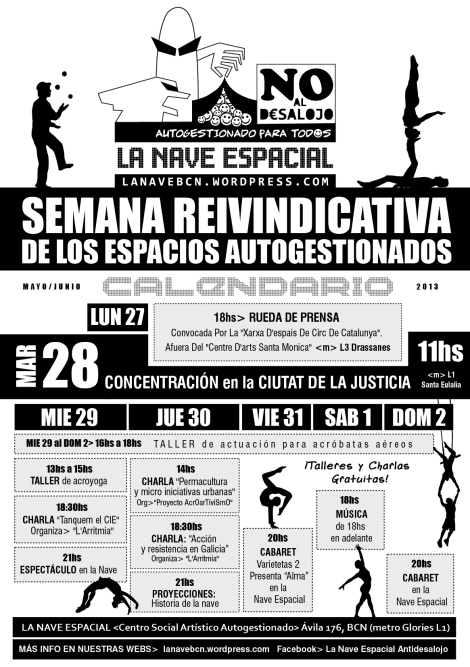 If you still haven´t done it before, please kindly sign our anti-eviction petition online:

Here you can find detailed information about the events during the REVINDICATION WEEK and links to Facebook events where we shall publish (if necessary) last minute updates:
GATHERINGS OF SUPPORTERS

Facing trial the following day the collective of LA NAVE ESPACIAL will also participate in the press conference, which is designed as a venue to present the situation of the circus spaces in Catalonia and the problems and obstacles they face to continue with their work.
To attract more attention to what is going on and among all, almost inevitable eviction of LA NAVE, we call on all artists and friends of LA NAVE to be with us in person on May 27th at 18:00 outside the "Centre D'art Santa Monica ", La Rambla 7, 08002 Barcelona (Metro L3 Drassanes).
If you can come and support us with your presence – perfect, if you can also come and perform, even better.
Ciutat de la Justicia, Gran Via de Les Corts Catalanes 111, metro L1 Santa Eulalia o Ferrocariles Ildefons Cerdà.
The May 28 is the day of court hearing. To reclaim our social and artistic work, we want to make LA NAVE visible and show what is about to be lost. Like many other self-managed centers in Barcelona, LA NAVE is also facing eviction.
So we need your help: join us with your presence, your art, your energy and good will on the 28th of May at 11:00 am in our  anti-eviction concentration at Ciudad de la Justicia, Gran Via de Les Corts Catalanes 111,  (metro L1 Santa Eulalia or Ferrocariles Ildefons Cerdà).
WORKSHOPS AND TALKS

From Wednesday to Sunday from 16h to 18h acting workshop for aerial acrobats
Tools for creating a character, develop and maintain the fiction scene on canvas, hoop and / or trapeze.
An intensive course to make the most of it, intrested please contact traseloceano [at] gmail [dot] com
The first 3 days the workshop will take place in the dance hall, on the last two days in the gym.
WEDNESDAY  (29.05) 18:30 Talk "Tanquem el CIE" by "L'Arritmia"
Talk against the eviction of LA NAVE and evictions in general
L'Arritmia – recently re-squatted place – proposes two bits about fight against the repression.
This one about what happens with the Internment Center for Foreigners and the reality in Galicia.
CABARETS
The cabaret that perhaps won´t allow you to make heads or tails of it (or so the title suggests), but no worries, the artists that will perform that night will definitely leave you impressed and awed.
Videos, short movies, reports and documentaries presenting la Nave Espacial and its history
SATURDAY (01/06) 18:00 Concerts – Live Music
Concerts  of our friends – among others groups like: Orquestra Illegal de Barcelona, Buenas Costumbres, La Shinga, Rimbaran
SUNDAY (02/06) 20:00 Final Cabaret
Starting with the dinner at 20:00 and the final Cabaret at 21:00…
These will be the last events in LA NAVE before the eviction, so we shall wait for you there anxiously with lots of emotions and hope that in some manner there will be a way to continue this work .